2017 STAFDA Directory Media Kit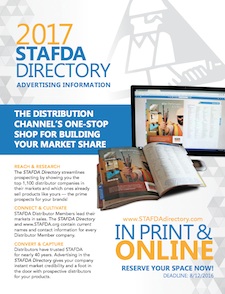 The Distribution Channel's One-Stop-Shop for Building Market Share
— In Print and Online

As fast as technology is working to change the way the world does business, some facts are truly carved in stone — Distributors won't buy from vendors they don't trust and they can't sell what they can't find.
The distribution channel is founded on three timeless principles: quality products, prompt delivery and knowledgeable, trustworthy, relationship-based service.
The STAFDA Member Directory is the construction supply industry's only source of reputable distributors, suppliers (and their valuable rep agency partners) who are dedicated to serving the industry via distribution.
From single-store operations to giants with hundreds of stores, STAFDA Member Distributors have dedicated their entire lives to building long-term relationships with the leading contractors in their markets — and those distributors have become industry and market leaders in the process. If you want your products to be represented by the best sales forces in the world, look no further than STAFDA.
The proof is in the numbers; the average STAFDA Distributor Member sells $13.2 million in goods and services every year.
10 reasons why you need to advertise in the 2017 STAFDA Directory:
Your ad in the STAFDA Directory works for you 24 hours a day, all year long — across multiple platforms
Your key to a $15 Billion market: with over 1,100 distributor firms with 6,633 branches, STAFDA Distributor Members sell over $15 Billion annually in goods and services
Time tested: STAFDA has been the industry's go-to source for sales contacts and product sourcing for 40 years
More than 70 percent of distributors have purchased products they have sourced in the STAFDA Directory
Instant credibility: Distributors know that STAFDA Directory advertisers are stable companies that are actively building their brands in the construction market
A level playing field: Whether your company is a household name or just starting out, advertising in the STAFDA Directory gives your firm an equal chance to sell into the $15 Billion STAFDA market
Print and Online market coverage: Your ad in the print edition of the 2017 STAFDA Directory earns you the same size ad in the electronic version!
Distributors and Suppliers have visited the STAFDA Directory Online 30,000 times for each of the last two years
Full-page ads promote the STAFDA Directory Online 24/7 on Contractor Supply magazine's website, with over 450,000 page views each year
Banner ads in all 52 editions of the CS Weekly e-newsletter direct viewers to the STAFDA Directory Online
Click here or on the image at the right to download your 2017 STAFDA Directory Media Kit today!