Parex USA Hires Kevin Elrath as Technical Service Manager
Joins Parex from Stonhard.
---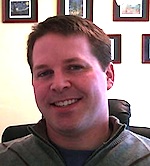 Parex USA, Inc., the parent company of leading building material brands; Parex, Teifs, LaHabra, El Rey, and Merkrete, is pleased to announce its recent hire of Kevin Elrath as the new Technical Service Manager.
Elrath joins Parex USA with over eleven years of experience in the building materials industry. Most recently he served as the Technical Service Manager for Stonhard, a manufacturer of epoxy and urethane floor, wall and lining systems. Prior to his position as the Technical Service Manager, Elrath was the Product Manager for the Stonres family of elastomeric flooring systems.
"The addition of Kevin to our Technical team provides us with a unique set of technical skills and broadens our knowledge of the construction industry, making our Technical Team number one in the industry," says Robert Dickson, Director or Technical Services.
Elrath holds a Bachelor of Science Degree in Chemical Engineering from Drexel University in Philadelphia.
Parex USA, Inc., a California Corporation, is a subsidiary of the ParexGroup, a division of Materis, S.A., a French Corporation. The ParexGroup is one of the world's leading manufacturers of specialty chemicals and ready-to-use mortars for the construction industry. With over 60 manufacturing sites, 9 R&D centers in 21 countries the ParexGroup employs more than 3,450 industry professionals who are the corner stone of this thriving global organization. For more information regarding Parex USA, Inc. visit www.parexusa.com.