Posted January 12, 2018
AeroBarrier named top product at 2018 Builders Show
Most Innovative Building Product winner seals building envelopes and reduces air leakage to almost zero.
---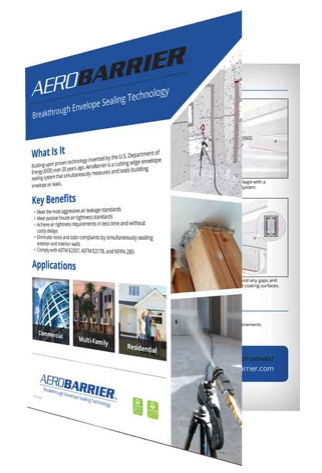 The National Association of Homebuilders' (NAHB) awarded AeroBarrier the 2018 Most Innovative Building Product and Best in Show. This year's competition was competitive, receiving 324 entries for nine categories. A team of judges narrowed the 324 entries to 60 finalists. From the 60 finalists, the top award was Best in Show.
Amit Gupta, CEO of AeroBarrier says, "We are honored to be recognized for innovation. Overall, there were 60 amazing product finalists, and to be awarded Best in Show is the result of five years of hard work, dedication, and extensive research by our team. We are excited to see builders embrace the technology."
AeroBarrier helps builders achieve the most stringent energy efficiency standards, sealing the building envelope easily and cost effectively, reducing air leakage to almost zero.
For the category of Most Innovative Building Product, there were seven finalists, including products that improve wall systems and plumbing. The award defines innovation as a product that is either new, or has been significantly changed, and would be deemed a game-changer in its product class. The finalists include the following:
Receiving the top award, AeroBarrier is being called the decade's most disruptive energy efficiency product. Mandalay Homes, an Arizona homebuilder, uses Aerobarrier on all new homes. Geoff Ferrell, Chief Technology Officer at Mandalay Homes says, "AeroBarrier is the key for us building net-zero homes as a standard feature. Before AeroBarrier, it was not financially feasible or practical on a mass scale." Mandalay Homes is eight-time award recipient for innovation by the U.S. Department of Energy, and builds the most ZERH certified homes in the country.
AeroBarrier features include:
AeroBarrier was used on The New American Home 2018, which achieved LEED Platinum certification and met the requirements for NGBS Emerald certification.
AeroBarrier improves acoustics of a building area, by reducing outside noise, sealing holes as small as a hair follicle.
AeroBarrier is GREENGUARD Gold certified.
AeroBarrier makes it easier to meet the stringent leakage requirements of ratings, standards, and codes such as LEED, Passive House, ZERH, and the 2015 IECC.
AeroBarrier was developed at University of California, Davis, where it received four years of research and development. In 2017, AeroBarrier launched in beta, with its first use on projects that qualify for the DOE's ZERH program. AeroBarrier is instrumental for single and multi-family projects targeting the performance requirements of LEED, ZERH, Passive House, and the 2015 IECC or better.