Channellock 412 — full-sized grip, pocket-sized pliers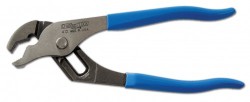 The new 6.5-inch Model 412 V-Jaw tongue and groove plier from Channellock offers professionals and DIYers the same quality design and right-angle, maximum-bite grip as the other Channellock V-Jaw pliers — only in a more compact frame, making it easier to work with smaller piping and tubing.
It is made from high-carbon C1080 steel for superior quality and performance and has an electronic coating for rust prevention. The undercut tongue-and-groove design assures no-slip jaw action.