Drill Bits
Starborn Industries SMART-BIT PRO PLUG System for Wood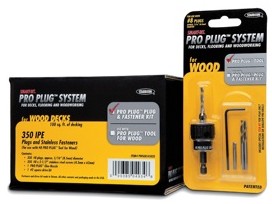 Precisely Engineered System Makes Plugging Simple & Easy, While Delivering Superior Results for Decking, Hardwood Flooring & Woodworking Applications
Starborn Industries, Inc., a leading manufacturer of fasteners and related products for the building industry, has introduced the new SMART-BIT PRO PLUG System to greatly simplify and enhance the beauty of wood plug installations performed within decking, wide plank flooring and woodworking projects. The system includes the PRO PLUG Tool for Wood, the PRO-Plug Glue Nozzle and PRO PLUG Plug & Fastener Kit in different wood species and fastener sizes as well as the PRO-Plug Glue Nozzle, which combine to quickly and consistently create perfectly crafted plugs in less than half the time of other plugging methods.
"Plugging has been used in building and woodworking for hundreds of years to cover and protect the heads of screws as well as define serious craftsmanship," says Paul Gertner, president of Starborn Industries. "However, the process can be time-consuming and tedious. The new SMART-BIT PRO PLUG System was specifically developed to make plugging quicker and easier. It was also engineered by our research team to perfectly install plugs in more than 20 species of decking, flooring and wood, while delivering superior results, plug after plug. In timed trials, it also reduced the time to plug by more than half."
The PRO PLUG System was introduced by Starborn Industries as an ideal solution for plank floor installers and deck builders desiring to repair squeaky floors or combine the proven strength of face screwing with the aesthetics of hidden side-clip systems. Sold separately, the system includes the:
PRO PLUG Tool for Wood, which creates a screw hole and countersink that is perfectly matched to the PRO PLUG fasteners and plugs PRO PLUG Plug & Fastener Kit, which comes complete with wood plugs, screws, driver bit(s) and the company's patent pending PRO PLUG Glue Nozzle that coats the side of the hole where the glue is needed
The system is also available in many popular wood species for decking, flooring and woodworking including Ipe, Meranti, Cambara, Red Oak, Maple and Walnut. Plug & Fastener Kits are sold in quantities of 100, 350 and 1,050 pieces (each of which includes a nozzle) with the tool sold separately.
For more information on the new SMART-BIT PRO PLUG System for Wood please visit www.starbornindustries.com or call 1-800-596-7747. The system can also be found in many lumberyards and hardware stores nationwide as well as purchased online at www.manasquanfasteners.com or www.grainger.com. In addition, a brief SMART-BIT PRO PLUG System video demonstration is available for viewing at http://www.starbornindustries.com/proplugsystem/wood/video_demo.html.
IRWIN SpeedHammer Power Masonry Drill Bits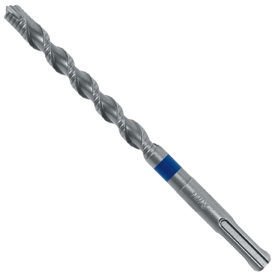 Power through Rebar-Reinforced Concrete
Revolutionary SDS-plus Masonry Drill Bits Feature Tip with Twice the Carbide for Longer Life and Durability.
Rebar-reinforced concrete is found on most jobsites in North America, and professional tradesmen are often frustrated by damaged or broken masonry drill bits that result from hitting rebar while drilling in concrete – an all too common obstacle in construction work. IRWIN Tools announces the introduction of the SpeedHammer Power SDS-plus Masonry Bit, a powerful solution for drilling through concrete that's reinforced with rebar.
IRWIN's SpeedHammer Power masonry drill bits are built to last. In fact, when drilling in rebar-reinforced concrete, they have twice the life of traditional masonry bits. With a patent-pending high-performance tip that's manufactured with two times more carbide than traditional masonry bits, they are optimized for cutting through rebar at high speeds. IRWIN SpeedHammer Power masonry bits are manufactured with premium steel for improved core strength, maximum durability, and extended life. The flute is designed for faster, more efficient dust removal, and they have a specially-engineered groove design that minimizes friction, resulting in increased speed and longer life.
"IRWIN Tools more than 125 years of experience in manufacturing all types of drill bits," said Jon Schlosser, Director of Marketing for IRWIN Tools. "The launch of our new SpeedHammer Power Masonry Bits was driven by extensive research into user preferences. We've literally talked to hundreds of professional tradesmen, and have heard consistent feedback about what's important to them on the jobsite. They repeatedly express frustration about having to constantly replace bits when drilling in rebar-reinforced concrete."
"Longer life, durability, and speed are by far the most essential features pros seek," Schlosser continued. "As power tools continue get more powerful, with vibration levels being dampened and controlled more efficiently, we can never lose focus on developing stronger bits that can last longer and hold up in the toughest of environments."
IRWIN SpeedHammer Power SDS-plus masonry bits are available in 6-, 8-, and 12-inch lengths, with diameters ranging from 3/16 to 3/4 inches. They can be found at construction and industrial tool distributors throughout the U.S. and Canada. The suggested retail price ranges from $8.00 to $40.00, depending on length and diameter.
Irwin Speedbor Wood Drilling Flat Bits

Now feature thicker cutting edges and larger shanks.
As professional tradesmen continually seek power tool accessories that not only stand up on the job, but also help them do their jobs better and faster, Irwin Tools today announces the introduction of the next generation of best-in-class IRWIN SPEEDBOR wood drilling flat bits, that have a 40% thicker cutting edge and 25% larger shank, providing longer drilling life and added durability.
IRWIN SPEEDBOR invented the flat bit in 1968, and now, the most popular flat bit in the market is even better. Carpenters, plumbers and electricians won't be disappointed with this latest innovation.
IRWIN SPEEDBOR flat bits still maintain the phenomenal speed and hole quality professional tradesmen have come to expect. The patented BLUE-GROOVE point and cutting edge, first introduced in 2006, provides fast chip removal and quickly cuts through wood.
Double cutting spurs scribe the outside of the hole, reducing breakout, and ensuring clean, true holes. Plus, these extremely durable bits have a 1/4" quick-change shank that is compatible with all standard drills and 1/4" chucks, including impact drills.
The latest IRWIN SPEEDBOR flat bits are available in a short 4-inch length for accessibility in tight spaces, a standard 6-inch length, and an extra-long 16-inch length for extended reach. They're available in a full range of diameters, so there's a bit that's perfect for drilling any size hole.
IRWIN SPEEDBOR flat bits can be found at home centers, hardware stores, and industrial tool distributors throughout the U.S. and Canada. The suggested retail price of 4-inch and 6-inch flat bits ranges from $2.99 to $6.99, and 16-inch ranges from $8.99 to $13.99.
Bosch straight shank rebar cutters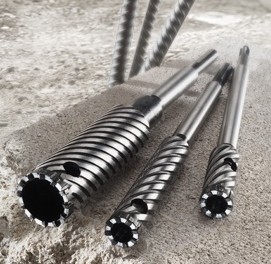 Bosch drills through rebar up to 36 percent faster and lasts up to twice as long as other rebar cutters.
"Where there is concrete, there is rebar," states Ed Pchola, Group Product Manager. "Now we offer a complete solution that saves time and money."
Designed to work in rotation mode, Bosch's rebar cutter has a unique flute geometry that employs a steep spiral design that quickly removes debris. A relief hole is incorporated into the cutting surface to dissipate heat and facilitate slug removal.
The body design and shank are tapered to reduce weight for smoother drilling and to reduce the amount of vibration that often leads to fatigue.
Bosch manufactures its own carbide to exacting specifications and the result is higher quality carbide that delivers longer drilling life.
Users simply drill with a carbide bit until making contact with rebar. They then use the rebar cutter to cut through the rebar until contacting concrete. Once rebar is cut, just switch back to the carbide bit to complete the hole.
Bits come in 12" lengths with drilling diameter from 3/8" to 1-1/2". The line also includes 18" lengths for ½", 5/8" and ¾" diameters, as well as 6" and 12" extensions.
To find out more, visit www.boschtools.com or call 877-BOSCH-99.
Hougen Rotabroach Tap Size Cutter Kits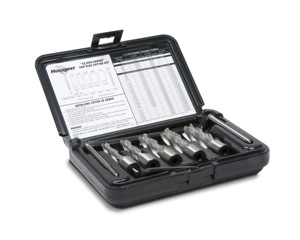 Hougen Manufacturing (Flint, MI) has recently added a cutter kit of five "tap drill" Rotabroach "12,000-Series" Annular Cutters to its series of kits. The diameters of the 2" D.O.C. tap drill cutters were selected to accommodate the most widely used taps and include 7/16" for 1/2-13 threads, 17/32" for 5/8-11 tapping, 21/32" for 3/4-10 sizes, 25/32" for 7/8-9 threads and 7/8" for 1-8 threads. The sturdy plastic case provides the convenience of holding five cutters and three pilots keeping them organized and protected from damage rather than lying loose in tool boxes or work areas.
Hardened, precision ground M2 H.S.S. Rotabroach Cutters cut clean holes and ensure the accuracy needed to get proper tapping thread depths. The cutters can be used in Hougen portable magnetic drills, drill presses or stationary machine tools.
Hougen offers 23 portable magnetic drill models, five Punch-Pro Portable Electro-hydraulic Hole Punchers, plus a wide range of annular cutters for a variety of applications, including sheet metal and tubing, all supported by over 4000 worldwide distributors and 47 service centers.
Bosch Speed-X concrete bits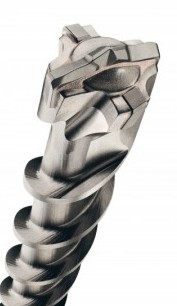 Bosch's game-changing Speed-X Hammer Carbide, as the name would suggest, is all about fast concrete drilling. Compared to the leading competitor, Speed-X drills up to 20 percent faster in concrete. Holes start precisely, thanks to the centric carbide tip, and begin quickly as the innovative inclined side cutters power their way into concrete.
As holes progress, the Speed-X really begins to shine. By utilizing a shortened head design and enlarged dust-clearing channels, Speed-X actually performs better as holes get deeper. In side-by-side testing versus the leading competitor, the speed difference in deep drilling applications is visible and noteworthy.
In addition to significant increases in speed, Bosch engineered Speed-X to deliver the outstanding performance and long-term durability users have grown to expect from all Bosch hammer carbide products. Vacuum optimized brazing and heat treatment of the precision carbide tip provides excellent resistance to impact and thermal stresses and contributes to an 18 percent increase in lifetime.
The same shortened head and inclined cutting slots responsible for increased drilling speed also enhance durability by providing fast dust removal and reducing friction. The expanded flutes further reduce friction as holes get deeper by clearing debris and enabling Speed-X to drill efficiently in deep applications. The precision engineered flutes also reduce vibration in deep drilling.
For precision anchoring applications, Bosch has moved the wear mark to the tip of Speed-X. Unlike previous hammer carbide that employed wear marks on the flutes, Speed-X alerts users when the carbide tip is worn and will no longer deliver precision anchoring at the start of drilling. The feature was first introduced on Bosch's acclaimed X5L Hammer Carbide and was praised by users who quickly realized imprecise hole placement was the most significant problem associated with worn hammer carbide.
The Bosch Speed-X will first be available (in limited distribution) in both SDS-Max and splined versions and in a variety of popular sizes beginning this June. Speed-X will be available through authorized dealers nationwide by fall 2010. To find out more or to find a local dealer, users may visit www.boschtools.com or call 877-BOSCH-99.
IDEAL step drill bits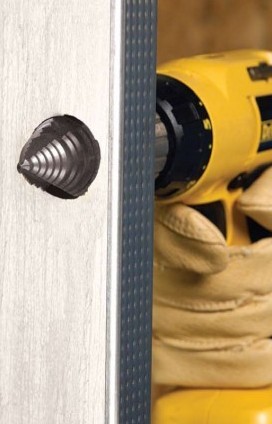 Tool versatility means added value for today's contractors. That's why IDEAL has introduced a new line of double-fluted step drill bits that feature a 1/4" hex shank compatible with virtually every drill on the job site, including 3-jaw chuck, impact drivers, and quick change drill chucks.
"Our Quick Change bits are designed to appeal to contractors interested in buying and carrying fewer cutting supplies," explained Aaron Mattison, Product Manager for IDEAL. "Using only a single bit, contractors can precisely cut multiple-size holes through brass, plastic, carbon steel, cast iron, stainless steel, and hard or soft woods."
Key to the Quick Change bit's success is an aggressive split point tip that is twice as fast at initial penetration as conventional step drills. By dramatically reducing penetration time the bit prevents skidding across the surface, while also eliminating the trouble of making a pilot hole or punch.
Each 1/16" multi-diameter step is radius-blended to smoothly transition from one to the next. Hole-size diameters are laser-etched in the flute area for quick and positive identification. The double-fluted design, with its secondary cutting edge, yields more balanced, vibration-free cutting for exact, repetitive holes.
To further enhance cutting performance, the bitsincorporate the most durable, double-tempered high-speed steel available for cutting tools. Three bit sizes are available:
1/8" to 1/2" (#35-521)
1/4" to 7/8" (#35-522)
1/4" to 1-1/8" (#35-523)
along with kit (#35-524) that contains all three sizes in a rugged blow-molded case.
For more information, please call 800.435.0705 or visit
Driltec JET-HEAD and BIONIC drill bits

New rotary hammer developments with emphasis on ergonomics and operator convenience have challenged us to maximize those advancements. The patented JET-HEAD drill bits together with the brand new BIONIC drill bits made those challenges reality.
Independently verified performance tests prove that the new BIONIC drill bits not only are exceptionally fast but to also substantially outperform other leading manufacturers when it comes to drill bit life and performance.
The BIONIC drill bit's unique concaved carbide tip and the all new TWINMAX spiral flute will be extended throughout all rotary hammer drill bits where applicable.
SDS-Top drill bits, chisels and core bits for the all new mid-range rotary hammer generation as well as Rebar-Cutters are further evidence of DRILTEC's commitment to market leadership and customer service.
DRILTEC rotary hammer accessories are designed and built in accordance to power tool manufacturer's specifications and licenses in order to maximize as well as optimize rotary hammer performance. Throughout the production processes strict quality assurance programs are enforced to ensure consistency and superior standard of quality. Research, modern production techniques combined with the latest in manufacturing equipment are put to work in the manufacture of highest quality DRILTEC carbide tipped drill bits and accessories.
Relton extra long chisels
Relton's SDS-max Bull Points and Chisels are now available in 36-inch lengths.
These longer chisels make it easier on the operator. They are great for use when chipping, channeling and breaking up concrete, brick and asphalt.
Made in the USA.
---