Lifting & Moving Equipment
Jim Potts' The Scoop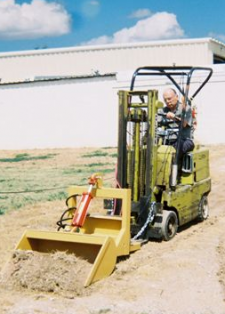 Jim Potts introduces "The Scoop" detachable bucket scoop designed for forklifts and tractors. It installs in minutes and fits most tractors and forklifts on the market.
The farm tractor model is available in 6- and 8-foot models and three different sizes: 13, 15 and 18 inches deep. The fork lift model can be made in different widths and sizes.
Any unit can be set up with hydraulics to attach to the host unit or equiped with a 12-volt hydraulic pump unit that hooks to a vehicle battery.
It features:
Fast & easy hook-up
Three different size buckets
Same mount and cylinder fits all buckets
Reasonable pricing
Made in the USA (Patent Pending)
www.jimpottsautoglass.com/scoop
Diversified Products Man Baskets for Service Cranes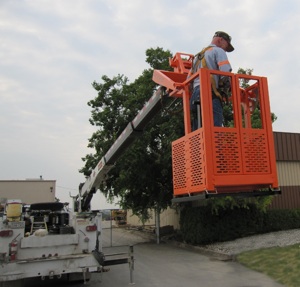 Diversified Products introduces the first Quick Attach Man Basket specially designed for use on service cranes. The yoke-style basket features a universal mounting bracket for installation on a wide variety of service crane styles, and it provides a much safer option for construction and utility work than using ladders or climbing on equipment. It also extends the versatility of service cranes used in mines, petrochemical plants and a wide variety of other large equipment applications.
Diversified's man basket is made from heavy-duty steel for withstanding tough jobsite conditions. The basket also provides improved access to equipment, and its design allows the unit to be stored on the service body. The full-sized floor is 30 inches wide by 30 inches deep, and the inward-opening doors are designed to save space, promote easy entry and provide additional worker safety.
Further safety features are incorporated to help the man baskets meet or exceed ASME standard B30.23 for personnel lifting systems. These features include floor slots to drain water, as well as upset holes to prevent slippage. Additionally, each man basket contains a low-maintenance, high-capacity caliper brake.
Options for the man baskets include a step for added convenience, a stand for installation on uneven ground or large cranes, and a CSA-approved upper basket enclosure. Besides this product, Diversified also offers a full line of yoke-style, rotating and custom-built man baskets for other types of equipment.
Diversified Products offers a wide range of attachments for cranes, knucklebooms and digger derricks. For more information about the Quick Attach Man Baskets or other specialty product capabilities, contact Diversified Products, 1001 Webster Avenue, Waco, Texas 76706, phone 254-757-1177, fax 254-757-1188, or visit the Web site.
Snorkel Aerial Work Platforms

Snorkel defines personal access as compact, portable lifts, generally designed to be used by one person and mainly for interior applications at heights under 40 feet. Low-level access is defined as machines under 12 feet platform height and weighing less than 1,800 lbs.
David Smith, President of Snorkel North America, said: "We believe that low level access will undergo major growth in North America, as more and more people swap podiums and stepladders for lightweight, compact aerial lifts. And when it comes to smaller, lighter, more agile machines for working at lower heights, Snorkel now has the best product portfolio in the industry."
Lightweight, compact lifts are a perfect fit with the 'Mom & Pop' rental store ethos; relatively low-cost lifts that deliver an excellent return on investment.
"Snorkel believes in providing the same level of support and service to a customer who buys one lift a year, as a customer who buys one thousand," added Smith.
Furthermore, Snorkel's partnership with Pop-Up is breaking new ground in North America. Pop-Up's award-winning range of push-around scissor lifts is now in wide use with global contractors working in the UK, with close to 6,000 units in the field. The majority of Pop-Ups are sold to rental companies, some of whom reported a return on investment in the first year of ownership. The benefits of using push-around mast lifts are already understood; the Pop-Up range brings the same safety and productivity benefits to lower level access.
All machines have Snorkel's key engineering principles at their core, ensuring low total ownership costs - robust, 'rental-tough' design; simple to use; simple and low cost to maintain:
Pop-Up PUSH Series push-around scissor lifts
New to the US market, the Pop-Up PUSH series deliver the safety and productivity benefits of push-around lifts into the low-level access sector for the first time, with platform heights of 6ft, 8ft and 10ft. The lightweight PUSH series was developed through feedback from major contractors, to ensure it can withstand tough job sites. More than 6,000 Pop-Up lifts have now been sold worldwide.
Snorkel TM12 self-propelled mast lift
The original mast lift, the TM12 fits through a standard internal door and is light enough to travel in a passenger elevator. With a platform height of 12ft, it has an extremely rigid mast for platform stability. Proven over more than a decade, the TM12 is popular with rental companies and contractors for its versatility, all-steel chassis and "rental-tough" design.
Snorkel XT24SD towable scissor lift
A unique, 24ft towable scissor lift with friction drive assist – tow it to the customer's premises, then drive it into position from the platform, like a standard self-propelled machine.
Snorkel A38E electric articulated boom lift
Unique to the US market, the Snorkel A38E is 100% battery-powered, meaning it is zero emission at the point of use. This quiet and clean boom lift has superb battery life and class-leading maneuverability.
Snorkel SPM20 self-propelled mast lift
Low cost, compact mast lift with 20ft platform height. Skid steer, simple controls and weighs less than 1,900lbs. Enhanced design for 2011 includes a sequencing wire rope system for smoother elevation and descent.
Snorkel PAM series push-around mast lifts
Low cost, entry-level push-around mast lifts with 21ft and 26ft platform height. Quick and easy to set up, PAM series lifts fit through a standard doorway and have an easy-tilt device for loading on pick-up trucks. New design features for 2011 include improved outrigger interlocks to prevent misuse and better mast stability.
Snorkel UL series push-around mast lifts (UL25, UL32, UL40)
With platform heights of 25ft, 32ft and 40ft, the unique mast design of the UL series delivers superb platform stability. Lightweight for working on floors with sensitive load bearings, the UL series are easy to push around, simple to set up and fit through a standard doorway. All UL lifts have an easy-tilt device for loading on pick-up trucks.
Snorkel MB series self-propelled mast boom lifts (MB20, MB26)
Designed for working in the narrow aisles of retail outlets, the MB series combines an ultra-narrow chassis with versatile "up and over" outreach capabilities. The lifts achieve maximum platform heights of 19ft 8in and 26ft, with 475lbs platform capacity.
Snorkel TL series towable boom lifts (TL34, TL37J, TL39, TL49J)
Snorkel's TL series are very cost-competitive, well-specified, towable boom lifts. Live hydraulic controls mean they are extremely easy and low-cost to maintain, while the all-steel boom is robust, durable and delivers great platform stability. Available in 34ft, 37ft, 39ft and 49ft platform heights.
Snorkel S series self-propelled scissor lifts
The new Snorkel S series electric slab scissors are built to deliver low total ownership costs. The industry-leading thickness of the steel chassis helps ensure a long and productive life, while the new control system provides for quick and easy troubleshooting. Available in platform heights of 19 feet, 19 feet lightweight, 26 feet, 26 feet lightweight and 32 feet.
Multi Wedge Non-Marring Wedge Pry Tool Set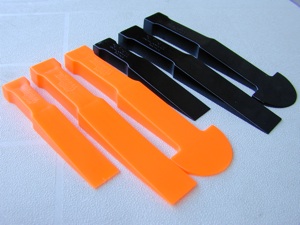 This amazing new Pry Tool set replaces damaging screwdrivers which are not intended for use as prying tools because they always cause marring and nicks.
Multi Wedge tool sets are strong but gentle for all types of surfaces.(Wood, Rubber, Plastic, Glass, Soft Metals) The tools have very thin tips allowing the user to get into tiny gaps, great for trim and baseboard removal, even panels or moldings, or disassembly of furniture for restoration, a must for every toolbox.
Multi Wedges received a 96% approval rating from over 400 Handy Magazine, DIYers and professionals. The tool sets are made of 2 different materials recognized by the 2 colors Orange and Black.
Multi Wedge's Orange wedges are made of a high tech blended polyethelene material which is very
flexible with a softer slick surface critical when prying apart custom trim and molding.
Multi Wedge's Black wedges are made of a high tech blended polycarbonate material, they are
designed to handle the excessive force necessary for tougher applications, or for example prying
hardwoods.
Tool Features:
Super-fine tip
Built-in handle and striking surface
Slick surface
7" long
2 materials for soft and hard applications
Available in Orange set (3 pcs) Black set (3 pcs) or Both Sets (6pcs).
For more information, contact Robert Cameron, Southwestern Manufacturing, 888-718-5645 (949) 400-3084; E-mail: rcameron@multiwedge.com
Master Magnetics magnetic sweepers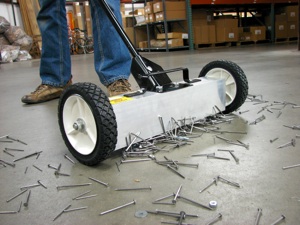 Master Magnetics, Inc. (The Magnet Source™) introduced the latest additions to their line of magnetic sweepers. The super-powered, permanent magnet assemblies ranging from 12" to 96" in width are perfect for the fast and efficient removal of hazardous scrap metal debris from warehouses, loading docks, parking areas, runways, manufacturing and shop areas, job sites, workshops and other important traffic areas.
Hang-type sweeper – The new 36 and 48" hang-type sweepers feature a release handle for quick and safe release of collected material. Includes two eyebolts for securing in place on forklift forks or to suspend with a chain from a vehicle. Powerful strength (330 lbs. pull for 36" and 440 lbs. pull for 48") allows for quick and effective sweeping of large areas.
Push-type sweeper – The new 18" push-type sweeper features a quick-release handle for fast and easy release of collected metal debris, a height-adjustable handle, and 7" wheels with an adjustable sweeping height from .5" to 2.5". Perfect for quick clean-up of small to medium-size areas.
To view a video of magnetic sweepers in use and for more information on all Master Magnetics' push, hang or trailer-type magnetic sweepers, visit magnetsource.com.
Jumbo Wedge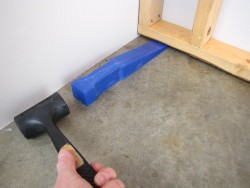 The amazing Jumbo Wedge from Southwest Manufacturing is manufactured from the highest grade of ABS material. It weighs just eight ounces and can lift up to an amazing 10,000 pounds.
Jumbo Wedge can be easily used by one person and is better than a prybar which can spring back at you. It is perfect for wedging, aligning, lifting framework, installing doors, prying plywood, paneling and general leveling on the jobsite.
Powerful Double Angle.
Built-In handle & High Impact Striking Surface.
1/4" Wall Thickness For Heavy Duty Strength.
14" long x 1 5/8".
Made in The U.SA of strong ABS material
BigLug Trailers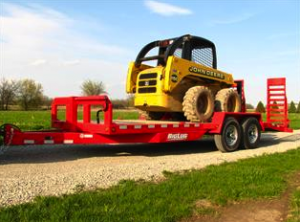 BigLug trailers are manufactured using grade 50 steel. Grade 50 steel is stronger than the A36 steel commonly used throughout the industry. Like the saying goes, a house is only as good as its foundation. This also holds true when manufacturing trailers.
BigLug trailer products come with standard features such as: sandblasted metal, epoxy primer, and polyurethane paint finish. This ensures that your trailer finish will look new for a longer period of time. The list of standard features on BigLug trailers is extensive.
Common features are: grade 50 steel, LED lights, modular wiring, self maintaining breakaway systems, lockable tool box, 3/4 " door hinges, heavy duty fenders, greaseable hydraulic cylinders, greaseable door hinges, greaseable equalizers, mechanical linkage tailgates, load stabilizers, spring loaded ramps, adjustable couplers, D rings, stake pockets, rub rails, low profile deck height.
Wood's Powr-Grip material handling solutions for construction, remodeling, stone, glass and more
Put a handle where you need it on nearly any smooth, nonporous surface.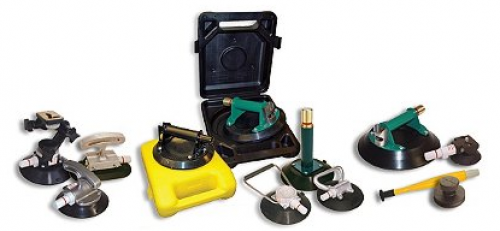 Powr-Grip offers a full line of vacuum cups for lifting and carrying appliances, glass, stone and other sheet materials. Superior construction, close attention to detail during manufacturing, and individual testing have given these tools a reputation for excellence. The wide variety of standard hand cups include models with flat pad faces, for quick attachment to flat surfaces, and models with concave pad faces, for effective attachment to curved or irregular surfaces.
Rubbermaid Heavy-Duty Material Handling Carts and Trucks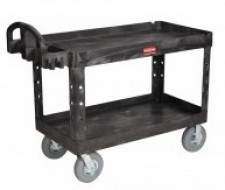 Rubbermaid inaugurates a new standard of excellence in heavy-duty carts and trucks.
Rubbermaid Commercial Products (RCP), the leader in durable facility maintenance solutions, proudly introduces a new standard of excellence in heavy-duty carts and trucks. This line of heavy-duty material handling solutions has been significantly redesigned and expanded into new categories, new products, and new innovations to help end-users work smarter, faster and safer.
"The new Heavy-Duty Material Handling Carts & Trucks line consists of 55 products for end-users on construction sites, in manufacturing plants or within office buildings.
Duramold structural resin and metal composite structure has the highest strength-to-weight ratio when compared to other metal, wood and solid plastic decks and has been tested to hold and transport up to 2,500 pounds of weigh load capacity — almost 40 buckets of sheetrock compound. Duramold decks won't warp, dent, splinter, rust or rot, absorb impact and resist most chemicals.
Variable grip-height handles on carts and trucks improve maneuverability and reduce muscle strain for most users, regardless of height. Optimal caster options are installed on each product.
All Material Handling LA Series lever chain hoists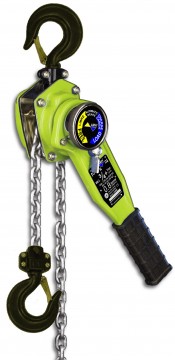 AMH announces new LA Series lever chain hoist in 3/4- to 10-ton capacities.
All Material Handling, Inc. recently announced a new lever chain hoist that is now available for same-day shipment from four USA warehouse locations.
The LA series is hard working design with increased dual rating of imperial and metric tons to satisfy the workplace.
The LA series sports a florescent green color and has more features than found in many premium lever hoists. Premium zinc plated load chain, manufactured in Japan or EU, is standard and contributes, with plated and powder coated exterior hoist finishes, to provide better corrosion resistance.
Oversized double pawl mechanical brakes insure positive load handling and all hook blocks are bolted allowing "full" inspection of hooks per ASME B30 code.
All are offered with an optional new design, lift direction only, Overload Protection that insures any load raised can be lowered.
Don't overlook the new 2¾ US Ton model that has become a popular capacity available only from a premium brand. More capacity with reduced pull at a better price means great value at a time when we all could use it.
The LiftPod by JLG
Portable aerial platform is powered by an 18-volt drill.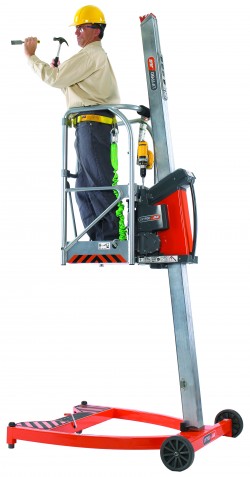 The LiftPod by JLG is the first personal and portable aerial work platform designed as an alternative to the ladder.
Powered with any common 18-volt cordless drill and easily transportable in the back of a van, pick-up truck or SUV, the LiftPod provides users a 360-degree range of motion and the ability to work with both hands at a working height of up to 14 feet.
The lightweight design and compact size of the LiftPod allow a single person to move it around on the work site with its non-marking polyurethane wheels.
It also can be assembled by one person in less than 30 seconds.
The LiftPod is operated with a typical 18-volt cordless drill or an optional power pack and a pair of two-hour quick-charge NiMH batteries to allow continuous work, with about 20 up-down cycles per battery.
The LiftPod weighs 145 pounds and consists of three main sections: the base, the mast and carriage, and the platform. The heavy-duty, powder-coated steel base's castor mechanism locks when the LiftPod is in use and provides mobility when it is set up.
The mast consists of aircraft-quality aluminum, and the platform has a 330-pound capacity at maximum elevation. An attached work tray holds tools and materials, allowing LiftPod users to efficiently work with both hands.