Predator sewer hose from Parker Hannifin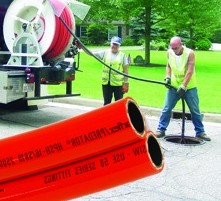 Predator Sewer Cleaning Hoses from Parker Hannifin, Parflex Division range in pressures from 2,500 PSI up to 4,000 PSI in sizes ranging from ½" ID to 1½" ID depending on style. Predator hoses are easily identified by their industry standard color-coded jackets and dark gray core tube and are accompanied by the dark gray identification of fittings, menders and hose equipment.
Parflex also offers the only dedicated leader hose (SLH) to be used as a pilot line, saving the primary sewer cleaning hose from unwarranted abuse. The leader hose also acts as a visual indicator to show the hose is near its termination during extraction to minimize the chance of personal injury and property damage.
Predator Sewer hose is used in water slurry applications such as lateral drain cleaning, water jetting or sewer cleaning services. For large water volume applications, hoses can be bonded together in order to create a twin line hose. The most common hoses, Predator S6 and S9, are packaged on sturdy wooden reels compared to typical cardboard reels that are easily damaged in transport or by weather.