Stanley FatMax Xtreme Aviation Snips Boast Lifetime Warranty
Premium quality and durability at a competitive price.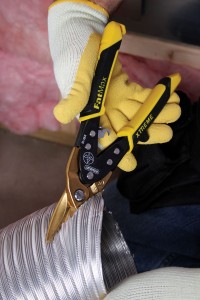 Stanley's three new aviation snips set a new standard for performance and durability. Ideal for cutting tin and other light gauge sheet metals, the new line of FatMax Xtreme aviation snips offer superior quality, innovative performance-driven features, and a lifetime warranty — all for the same price as competitive professional-grade brands.
FatMax Xtreme aviation snips offers three skus:
model 14-206 center cut snips
model 14-207 left cut snips
model 14-208 right cut snips
Their titanium-nitride coated blades stay sharper longer to deliver up to 20 times the cutting life of competitive models. This equates to 50,000 cycles per tool (when cutting 22 gauge stainless steel).
Constructed from a chrome molybdenum alloy, the serrated jaw blades offer a stable bite to help minimize slippage as well as the undesirable twisting effect that slows users down and makes unattractive cuts.
Patented flush hardware allows smooth access from the pouch and helps prevent the metal from catching on the protruding hardware during cuts. An internal locking mechanism with auto-release provides fast, one-handed operation.
For more information, call 1-800-STANLEY.
---