Stanley FatMax Xtreme Tape Rule Touts A 138% Larger Hook
For fast and easy one-time measurements.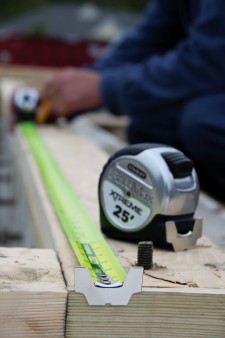 Stanley adds a new hook for contractors with its latest tape rule innovation – the oversized hook. The 25-foot FatMax Xtreme tape rule build on its industry-leading 13 feet of standout by adding a patented oversized hook that is 138 percent larger than traditional tape rules. It enables fast, hassle-free measurements and helps contractors grab materials from long distances. The new multi-catch hook can grip materials from the top, sides, and bottom to help contractors hook the tape onto irregular-shaped materials more easily without stopping and starting all over again. Precision raised edges provide enhanced gripping ability to ensure that one person can operate alone more effectively and productively.
Outward stabilizing wings prevent blade roll-over, which causes the blade to curl and fall amid longer length measurements. Users can rotate the blade for accurate overhead measurements without experiencing the dreaded snap and curl that forces them to start over again.
Another feature of the new FatMax Xtreme tape rule is its high-visibility Mylar coating, which is significantly more visible in low-light situations.
A high-impact ABS case and shock-proof slide lock provide increased durability and added user comfort. Thanks to a rubber outer shell, the slide lock can flex and retain its shape after impact while an air pocket underneath the slide provides a cushion effect to help preserve the life of the tape rule.
Its patented 1-1/4" tape is wrapped in Mylar polyester film. Moreover, its first six inches are coated with a patented Blade Armor coating for extended life (up to two times longer life compared to previous Stanley models) and reduced breakage on the most critical part of the blade. Blade Armor is the same thermoplastic coating used to protect the rotor blades on a SIKORSKY BLACK HAWK Helicopter under extreme conditions.
The new tape rule by Stanley still offers many of the same features that helped it to secure a permanent place in the professional's toolbox. For example, it touts an unparalleled 13 feet of standout (continuous blade extension without breaking or creasing).
FatMax Xtreme tape rules come in two models – a 25-foot imperial tape rule (model 33-890) as well as an 8m/26-foot metric tape rule (model 33-891). Both units are expected to sell for approximately $25. For more information, call 1-800-STANLEY.