Tool Bags, Holsters & Pouches
Revco BSX Extreme Welder's Gear Pack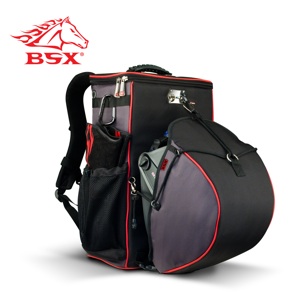 Protecting your helmet and storing your gear is about to get a whole lot easier with Revco Industries' newest addition to their BSX line of extreme welding gear. Designed exclusively for welders, the GB100 gear pack offers numerous innovative and thoughtful features.
The exclusive quick-action HelmetCatch makes this gear pack stand out above all others. It
introduces a secure 5-point rigging system and fast drawbridge action designed to make protecting your helmet a snap. The padded construction of the HelmetCatch helps protect the expensive lens from bumps and scratches, while the unique shape accommodates welding helmets of all sizes.
The gear pack itself can be worn over the shoulders as a rugged backpack with fully adjustable ergonomic straps, or it can also be carried by its sturdy, rivet-reinforced top handle.
Constructed with rigid walls, the GB100 supports a welding helmet and heavy duty welding gloves
on the outside, while leaving plenty of storage room within. The inside features pockets designed to
organize hammers, brushes, tip cleaners, electrodes and more.
A utility carabiner and a free lunch cooler are also included with the package.
The RIBZ Front Pack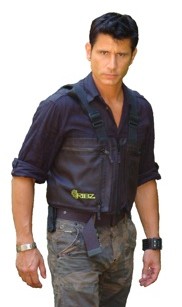 The RIBZ Front Pack is an innovative new gear pack, the perfect solution for anyone who wants essential gear in a fast and easy to reach location.
Capable of carrying more than 600 cubic inches of gear (a smaller 400 cubic inch model also available), RIBZ fits comfortably and securely around the user's ribcage, positioning the contents so that they do not impede torso or arm movement and can be accessed from the front.
Heavy-duty but also lightweight, the RIBZ Front Pack is made from 210D waterproof ripstop nylon and weighs 11 ounces (18-ounce water-resistant 600D nylon is also available).
Four external zippered pockets, and four additional internal pockets provide plenty of storage options. The shoulder straps of the RIBZ pack are extra-wide, heavy-duty nylon, designed to evenly distribute the weight, yet remain comfortable when wearing with an additional backpack.
The back of the RIBZ pack consists of two adjustable velcro straps which will not bunch up or sag when wearing the RIBZ with a backpack. Suggested retail price is $64.95.
Occidental Leather's Dr. Wood, the ultimate tool organizer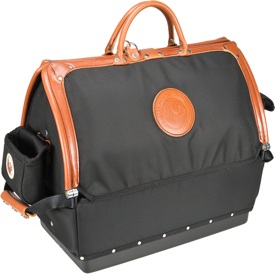 Occidental Leather, world famous for handcrafted tool bags and belts for the construction industry, introduces the ultimate in tool organization: Doctor Wood.
The Doctor weighs in at 15.5 pounds unloaded, with accommodations for each and every hand tool normally required by a professional tradesman. It has 85 pockets, including four medium and two extra-large zippered pockets for secure storage and organization of small items.
There are sleeve, ballistic nylon and leather pockets. Plus a bonus all-leather Pocket Caddy tool holder that may be removed to carry on a belt or tucked into a back pocket.
The hand-formed lids have rugged steel frames that hinge open to provide full access. Occidental's proprietary hinges with bronze bushings are so smooth and strong they could actually outlive the bag itself.
Dr. Wood is an evolutionary hybrid organization system; the bottom is constructed of high-density polyethylene, and the sides and main body are padded industrial nylon. American bridle leather is used for many of the tool holders, the buckle straps and, last but not least, the extremely comfortable hand made handles.
Veto Pro Pac
Introduces latest time-saving tool bag offering laptop and toolbag protection in one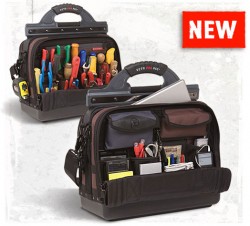 Jason Martin of Charleston, W.Va., knew he had to do something when the weight of his tools were ripping the straps on his backpack and, worse, threatening to damage his laptop computer. A systems administrator, Martin services computers for four pharmacies and his backpack didn't hold all the tools he needed.
His frustration ended when he bought the Veto Pro Pac's Model LT-XL tool bag designed to hold a laptop computer, business paperwork, and a wide variety of hand tools stored vertically in dozens of small pockets.
Job-site tough, the Model LT-XL follows in the tradition of Veto Pro Pac's other high-quality tool bags, all designed for use by professional tradesmen to withstand the day-to-day rigors of a job site. The Model LT-XL is made of ultra-rugged, PVC impregnated, denier body fabric and has a thick, injection-molded polypropylene base. It stands up, and keeps tools within reach, stored in such a way that a craftsman has immediate inventory of every tool available.
No more buying tools that are temporarily misplaced; for Martin, no more wasting time emptying his backpack to find a tool. "Now, I can find everything I need," said Martin, who said that the bag holds the 30-40 tools he uses, plus his laptop computer and has enough room to store 30 feet of network cable.
Brad Brinke, a Norfolk, Va., home inspector, agreed. In his work, he needs a laptop to generate immediate, on site reports after his inspections are completed. But his job also requires the use of a variety of hand tools.
That's why he bought the Model LT-XL. "It stores the 40 or so tools I need, my laptop, and I can even fit in my portable printer, too," Brinke said, noting that he has owned other Veto Pro Pac tool bags for five years.
Veto Pro Pac is short for Vertical Tool Organization Protected and Packed.
Veto bags are professional grade, industrial strength storage systems designed to keep tools where they belong, within easy reach, protected from work site hazards. Designed for professional tradesmen, Veto bags are built to withstand the rigors of day-to-day use on and off the job site.