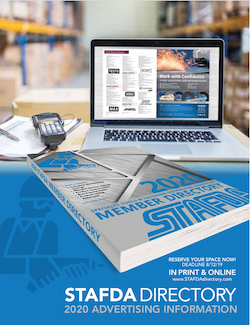 Stronger each day — the industry's leading product sourcing guide is the right tool for the job — in print and online!
Reserve Your Space Now!
Ad Deadline is August 12, 2019
Product sourcing can be the difference between keeping or losing customers. The STAFDA Member Directory helps distributors quickly find Your Products — and add Your Brands to their line cards.
Print is the foundation upon which online reach grows. The proof is in the numbers:
With over 1,025 distributor firms with 6,200 branches, STAFDA Distributor Members sell over $18 Billion annually in goods and services
Last year, STAFDA Directory Online

page views grew 46 percent

— to 131,384
Last year, distributors spent

an average of 7.60 minutes per visit

researching products and services in the STAFDA Directory Online
Nearly 75 percent of STAFDA Distributor Members have purchased products and added lines as a result of seeing them in the STAFDA Member Directory.
To get your products sold by the best sales forces in the world, look no further than STAFDA and the STAFDA Directory.