2022 STAFDA Member Directory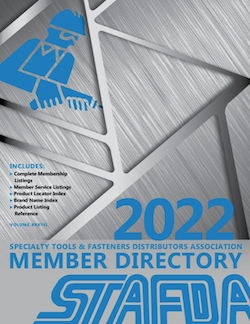 It's a $22 Billion Market — are you getting your share?
The Distribution Channel's One-Stop-Shop for Building Market Share — In Print and Online

The STAFDA Member Directory and STAFDA Directory Online help small companies get big and big companies stay big.
The industry's most powerful branding and sales tools are yours — in print and online — in one package!
As fast as technology is working to change the way the world does business, some facts are truly carved in stone — Distributors buy from vendors they trust and they find trustworthy vendors in The STAFDA Member Directory.

The STAFDA Member Directory is the direct link between suppliers and distributors, giving you finger-tip, one-click access to each other to source and sell products and increase sales.