Stanley Announces 250 New Tools for 2012
Annual new product symposium is largest ever.
---
Although some tools have already been released this year, the sheer number of new products coming from Stanley/DeWalt/Bostitch/Porter-Cable — a stated 250 SKUs for 2012 (with a little trickle down into Q1 2013) — is headline-worthy all by itself. So go ahead and sue us if we aren't 100 percent accurate about how many products are yet to come this year. We get easily confused by numbers larger than 10 and, as you will see, these numbers are way larger.
At its largest ever media event earlier this month at the Westin Times Square Hotel in downtown New York City, the Stanley/Black & Decker/DeWalt/Porter-Cable team not only sprinted through a raft of their own new product announcements, the company brought in selected licensees to show off some new Stanley/DeWalt branded products as well. But there were just five of these: We picked out quite a few more at the National Hardware Show in May, not least of which was Louisville Ladder and their full-on awesome new DeWalt ladder lineup. We'll get to the licensees in a bit.
Bostitch
So let's look at some tools, eh? First up, we'll review the new Bostitch products announced at the event. A number of tools and accessories coming from Bostitch are not due until later this year or early 2013 (isn't that always the case – we can never tell you about the coolest stuff as soon as we would like!), so in this article we will only discuss tools that they said we could tell you about right now. And trust us, we aren't covering anywhere near all of them here either.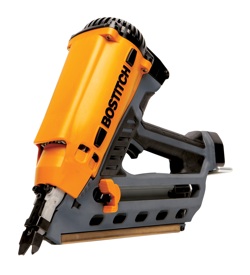 When you think "Bostitch," you think nailers first, and we were not disappointed. First up was the all-new first-for-Bostitch 30° Paper Collated Cordless Framing Nailer, the model GF33PT. Its gas combustion engine delivers over 760 inch-pounds of impact energy to drive ability to drive both clipped-head and a brand new line of full-round-head offset paper tape nails from 2 to 3-1/2 inches. This gorgeous tool weighs only 8.3 pounds with battery.
The GF33PT's new air-powered brother is the model LPF33PT Low Profile 30° Paper Collated Framing Nailer. It navigates easily into and between 16 inch-on-center spaces with room to spare and delivers 840 inch-pounds of impact energy at 100 psi. It drives clipped-head paper tape fasteners from 2 to 3-1/4 inches and can also drive offset round head fasteners.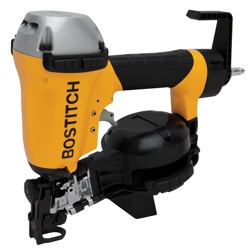 For steel construction, the new Bostitch model SF150C 1 ½-inch Light Gauge Steel Coil Nailer drives fasteners easily through exterior gypsum sheathing or wood sheathing into light gauge steel. The tool uses a new line of light-gauge steel fasteners ranging from 1 to 1-1/2 inches to help tackle commercial or residential sheathing jobs. The fasteners feature an optimized ballistic nail point for consistent penetration and a bugle head shape for maximum sheathing system performance. Their wire-weld collation allows for consistency and coil integrity in all climates. The new lineup of nails includes:
GC4S100BG (.100 x 1-1/2 inch, 16-20 steel gauge, for gypsum and steel)

C2S100BG (.100 x 1 inch, 16-20 steel gauge, for wood and steel)

C4S100BG (.100 x 1-1/2 inch, 16-20 steel gauge, for wood and steel)
Users can load a new coil of fasteners in less than three seconds. The tool itself weighs only 5.8 pounds.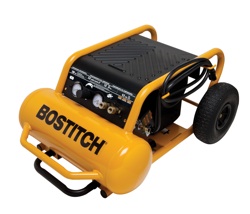 In the compressor segment, Bostitch announced two new high efficiency oil-free compressors, the CAP1645-OF electric wheeled portable compressor, which has a 4.5-gallon tank; and the CAP1615-OF vertical compressor, which has a 15-gallon tank.
"Our new Bostitch high efficiency compressors each offer a powerful 200-psi max operating system while boasting significantly lower operational noise levels (78 dBA) than compressors with traditional induction motors," explained product manager.
"They deliver up to 5.0 scfm at 90 psi, and their 200-psi max operating systems allow them to produce 80%+ more usable air than a 150-psi pump and 140%+ more usable air than a 135-psi pump."
DeWalt

DeWalt accessories got a boost from several noteworthy new items, including its new line of 2X Longer Life Reciprocating Saw Blades specifically designed to cut through the hardest metals. These blades feature a wide, thick design for durability, an innovative blade coating process for increased life, and a variable pitch of 14-18 TPI that provides a unique tooth geometry for efficient cutting and material removal. The new blades are offered in 6 inch, 8 inch and 12 inch lengths.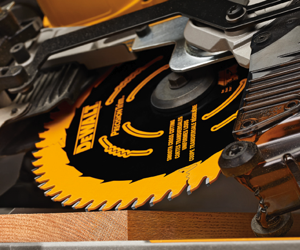 Circ saws get their due too. DeWalt has expanded its line of Precision Saw Blades with the new Precision Trim range for trim carpenters. These premium blades feature a thin kerf, laser-cut, hardened steel plate that allows fast, smooth cutting, laser-cut expansion slots and exclusive body slots help to dampen vibration and ultra-sharp C4 grade carbide tips to reduce splintering and tear-out when cutting premium wood species. They have twice the carbide of DeWalt construction series blades so users can re-sharpen each blade multiple times.
CNC grinding provides uniformity in the tooth grind and improves finish. Optimized grind angles also help to reduce tear out and lower the cutting force. The precision trim saw blades are also protected with an exclusive Tough Coat saw blade anti-stick coating for long blade life, reduced heat and friction, and fast and clean cuts. They are being offered in 8 ½-, 10- and 12-inch diameters and a variety of tooth counts.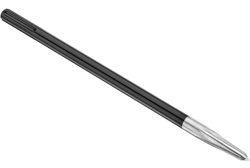 Another highly interesting entry is the new DeWalt line of High Impact Demolition Steel Chisels. These tools are specifically engineered to include two types of steel to minimize breakage and offer optimal durability. They feature an optimized tip geometry composed of high wear-resistant steel to help maximize tip strength and a durable shock-resistant steel shaft that prevents breakage.
Released earlier this year, the DeWalt Adjustable Depth Setter (model DWA5537DS) and Dust Collector (DWA500DC) also made an appearance. This two-piece system combines to create DeWalt's Depth Control and Dust System, which is designed specifically for use with DeWalt 3/8-inch, 1/2-inch and 5/8-inch SDS Plus drill bits.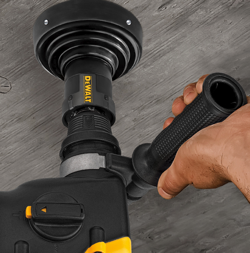 The DWA5537DS allows for controlled drilling depth, and provides accurate depth stop for setting the most commonly used drop-in anchors (1/4-inch, 3/8-inch and 1/2-inch), providing ease of use for professionals tasked with some of the most difficult overhead-drilling jobs.
To help prevent dust from pouring into a professional's eyes and face while drilling overhead, the DWA500DC Dust Collection System flushes tightly against the application material, creating a collection area for dust and debris. The DWA500DC fits over the DWA5537DS sleeve to minimize dust, and helps to create a clean workspace.
New DeWalt 5- and 6-inch diameter Tuck Pointing Blades and single row, double row and Turbo Diamond Surfacing Cups are compatible with DEWALT's new Grinder Dust Shrouds. In addition, new Sandwich Tuck Pointing Blades, made of two thinner blades welded together with a gap between them, offer users fast cutting speed.

DeWalt has also cooked up an ingenious solution to clogged magnetized nut drivers with its new Impact Ready Cleanable Nut Drivers for standard and high hat hex head fasteners commonly used in high-torque industrial applications. This DEWALT exclusive eliminates issues with clogged magnetized nut drivers, a common frustration among users who tackle metal-to-metal fastening applications. A sleeve design allow users to remove unwanted build-up by pushing up the holder to expose and remove the metal shavings in seconds.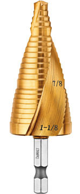 Yet another sure-to-please new item is DeWalt's Titanium Impact Ready line of Step Drill Bits, optimized for use with cordless impact drivers. They produce high-quality, no-burr 1/8-inch to 1-1/8-inch rounded holes in duct, junction boxes, shackles and struts. The titanium-coated split point tip of the step bits enhance the speed of the bits resulting in clean holes, and the 1/4-inch hex shank offers the durability and product life professionals can rely on.
The new bits feature a two-flute design for efficient chip removal during use and laser-engraved measurements for easy identification when measuring a hole during drilling. The new step bits also help decrease levels of reactionary torque compared to typical corded and cordless drill bits.
Many more dewalt hand tools are coming down the pike than we are allowed to mention presently, but a couple that we can discuss are the model DWHT43003 torpedo level, with an extruded aluminum body, solid block vials, a magnified center vial, rare Earth magnets for a strong hold on metal and a V-Groove base for use on rounded surfaces. With a rotating vial, this tool is perfect for identifying and duplicating angles, slopes and pitch. The back side of the rotating vial even features a roof pitch scale for reference.

To throw more light on the subject, DeWalt's accessory lineup now includes a jobsite headlamp. The model DWHT70440 headlamp features a directionally adjustable beam that delivers 104 lumens and up to 6 hours of run time on the high setting or 25 lumens and up to 29 hours of run time on low. It weighs just two ounces.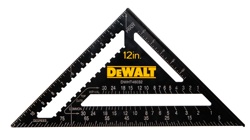 Two new premium rafter squares in 7 inches and 12 inches, the models DWHT46031 and DWHT46032, feature extra-thick extruded aluminum body construction that doubles as a saw guide and an extra wide base to help provide a grip on material. Stamped-in contrasting color graduations enhance readability. The rule edge features scribe line notches for marking out rip cuts on lumber, and the back features a convenient table of common rafter conversions.
Two new ratcheting adjustable wrenches available in 8- and 10-inch sizes, models DWHT70791 and DWHT70792, both boast a locking feature allows the user to switch between ratcheting and non-ratcheting operation. Ergonomically shaped heads are specifically designed to get into confined spaces, and each wrench has a laser-etched SAE and MM jaw scale for easy fastener size adjustment.
Stanley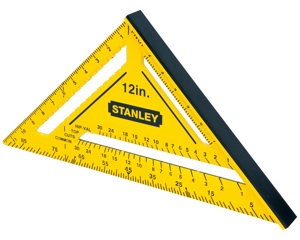 Stanley introduced its own new take on the rafter square, with what might be called an initial entry into an all-new category of tools — "extreme-viz." Call it "X-Viz" for short. The Stanley squares are literally so easy to read that if you can't use them you are probably legally blind. These dual-color squares feature graduations that are molded in – black under yellow -- so they will not wear off or fade away. The graduations also wrap around the square and extend from the top to the bottom surface for, like we said, extreme visibility. Each square features an extra thick ABS plastic body that holds up to heavy-duty use and doubles as a saw guide.
Other new items from Stanley that we can mention right now include Heavy Duty Shop Shears – model STHT14103 and upgrades to its popular hacksaws.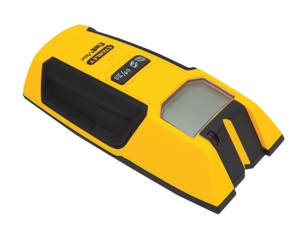 Also of note are four new stud sensors – models STHT77403, STHT77404, STHT77406, FMHT77407. The entire lineup features AC Detection, which detects live wires up to roughly two inches below surface material. The line includes:
Stud Sensor 100 - model STHT77403, which detects studs up to 3/4 inch deep

Stud Sensor 150 - model STHT77404, which detects studs up to 1-1/2 inches deep

Stud Sensor 200 - model STHT77406, with OnePass Center Find Technology (for studs up to 3/4 inch deep)

FatMax Stud Sensor 300 - model FMHT77407, with OnePass Center Find Technology (for studs up to 1-1/2 inches deep)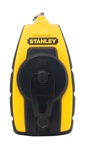 Last but not least, although maybe smallest, is a new 30-foot compact chalk reel (model STHT47147) that is really, um, compact. In fact, it is 70 percent smaller than Stanley's base model caulk reel, yet it still features a 3X rewind feature. A precision braided line provides strength and accuracy, too.
Licensees
So, Louisville Ladder was not here, but five other companies were, including Cengage Learning, which displayed a table-top's worth of its DeWalt construction guides and its seriously cool new DeWalt Mobile Pro iPad app.
We have mentioned this app online before but mentioning is not seeing, and this is a beauty. In the few weeks the app has been available for download, more than 20,000 copies have been snagged and it has earned an average iTunes Store rating of 4 out of 5 stars for features and usability.
Free App features include:
Construction calculator for solving job site math on the spot

Five basic calculations with integrated reference materials that offer help, examples and illustrations

Running history of recent calculations

Customizable list of favorite calculations for quick and easy access

Instant email capability of calculation results
Seeing the app work in person is the only way to really appreciate how well it takes staid old calculations like roof pitch and stair layout and makes them come alive so any users can easily understand and apply them. Check it out yourself at www.dewalt.cengage.com/mobilepro/
A paid version with more advanced features is also available, and specific apps for finish work, electrical, plumbing and HVAC are on the way.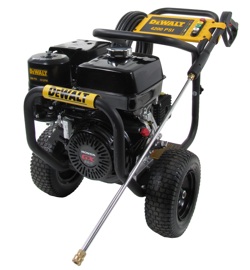 High Pressure
Rather than go through all the motions and costs of designing and producing pressure washers in-house, DeWalt has partnered with the FNA Group to design a line of gas-engine commercial pressure washers. The DeWalt portable (wheeled) washers are made in Arkansas and range from 3,200 to 4,200 PSI models in either direct or belt drive versions, all with Honda GX series engines. FNA also produces a 1,200-PSI electric model in the DeWalt lineup.
Bill Fischer, FNA vice president, is currently expanding the company's distributor network now so you can expect to see these units pop up in more places as time goes by. You can reach him by phone in FNA's Elk Grove Village, IL offices at 847-348-1593 or by email at bfischer@fna-group.com.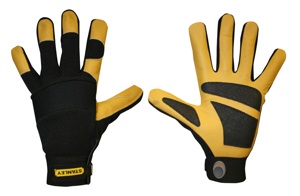 Hand in Glove
Stanley has partnered with Cordova Consumer Products to develop Stanley-brand mechanics, driver and leather-palm work gloves with a wide variety of materials and features. Products range from premium grain pigskin and goatskin models to cowhide, Kevlar, Niltrile, Polyurethane, nylon, PVC, latex and neoprene, spandex and jell-padded models. In all, more than two dozen models are available in this new Stanley line including DryDex gloves for outstanding gripping power and the ProDEX mechanics gloves. Contact Scott Laxton, VP of marketing at slaxton@cordovaisc.com or visit www.cordovaisc.com.
Less noise, more music
Honeywell Safety has snagged a license to product industrial noise-cancelling earmuffs with AM/FM radios for Stanley. The new products feature noise reduction factors of 25 NRR for excellent hearing protection in moderate-noise environments. One version is available with a built-in radio; another has a cable for connecting to iPod/MP3 players or cell phones. They run on two AA batteries for up to 140 hours and will shut off automatically if left on for four hours. Learn more at www.stanleypersonalprotection.com.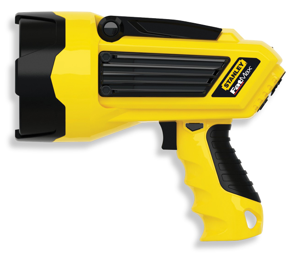 Are we all lit?
Baccus Global is Stanley's partner for lighting products and portable power solutions ranging from spot and flood lights to vehicle battery chargers, vehicle-powered power stations and auto power outlets for both AC and USB power needs. Products include:
Stanley FatMax Ultra Bright 3-watt LED rechargeable (NiMH) waterproof spotlight

Stanley 10-watt LED Lithium-ion rechargeable spotlight

Stanley halogen Lithium-ion rechargeable spotlight

Stanley Golf Cart and Vehicle Battery Charger

Stanley Professional Power Station

Stanley Portable Power Outlets
The waterproof spotlight is submersible in water up to 6 feet deep.
The 10-watt LED lithium –ion spotlight produces up to 2,000 lumens of light output, and the halogen version delivers up to 2,200 lumens. The golf cart and vehicle battery charger can charge, 6-, 12-, 24-, 36- or 48-volt batteries and the Portable Power Station can power electrical devices anywhere and incorporates a 120-psi air compressor. It features a 500-watt inverter with two household power outlets, a 12-volt outlet and a USB port. It also incorporates the Stanley 450-amp instant jump starter. The whole thing recharges from a standard household power outlet.
Rounding out the offering, Stanley Portable Power Outlets features a 12-volt (cigarette lighter style DC port that will drive two AC power outlets and a USB port.
The END (for now)
As exhaustive as this listing has been, it is easily exceeded by the number of new products yet to come this year and in Q1 next year that we cannot mention yet. So as always, stay tuned. From the folks at Stanley/DeWalt/Bostitch/Porter-Cable (and now Powers Fasteners as well), the best is always yet to come. CS