Atlas Copco F60, LF75 and LF100 Plate Compactors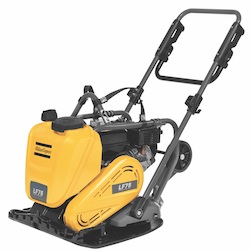 Atlas Copco's LF forward plate compactors excel in soil compacting and asphalt patching applications due to productivity-enhancing features. Integrated water distribution systems and vibration- reduction handles help operators achieve maximum efficiency, while the lightweight bodies contribute to high maneuverability.
The three models — LF60, LF75 (shown here) and LF100 — feature vibration-reduction handles and are lightweight, which optimizes ease of operation on soil and asphalt applications. The units' rounded plate design, along with a tubeless watering system, help prevent asphalt from sticking to the bottom of the plate.
With a full water tank, the models range in weight from 140 pounds on the LF60 to about 260 pounds on the LF100. The relatively light weight allows contractors to lift them easily into a trailer or truck, making the machines valuable tools for almost any road patching project.
"The success of our range of plates is in large part due to how easy they are to maintain and their ease of use," said Darrell Engle, Atlas Copco product manager. "We equip all forward plate compactors with a patented, low-vibration handle, resulting in reduced hand and arm vibrations. They are easy to operate and they virtually eliminate operator fatigue."
The plates feature rounded edges, making it easier for the operator to turn while compacting in tight corners or near obstacles without leaving a mark. The water distribution system allows for complete water coverage on the bottom of the plate, which contributes to a virtually flawless mat by preventing asphalt from collecting on the bottom of the plate.
The units also offer relatively high centrifugal forces, making them ideal for compacting soil before paving a driveway or foot path, as well as for compacting patches of asphalt. The LF60 generates as much as 2,338 foot-pounds of force, the LF75 3,372 foot-pounds and the LF100 as much as 3,822.