AttaBox Endurance Series Electrical Enclosures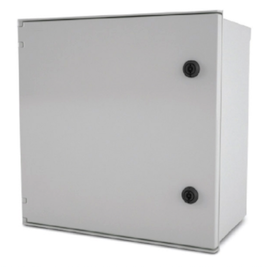 AttaBox offers a wide-ranging selection of non-metallic enclosures in polycarbonate and fiberglass materials, featuring 12 full product lines encompassing over 800 parts numbers and more than 30 configurations along with complementary thermal and standard accessories.
The Endurance (E) Series of enclosures represents a Next Generation enclosure evolution-a double-insulated body that is mounted directly to the wall or rail with no external feet or flange.
In this design, the mounting bolts are completely isolated from the interior of the enclosure, maintaining complete environmental integrity on the inside, along with maximum electrical safety. These fiberglass-reinforced enclosures feature a flush, removable, hinged door with a 180-degree opening.
There are eight sizes of Endurance Series enclosures to meet the broadest industrial needs. The enclosures are rated watertight and self-extinguishing, with a broad temperature range.
Raised bosses internally provide for an extensive range of panel mounting options or DIN rail. They are easy to machine and customize to the user's demanding specification. Endurance™ Series enclosures are designed with an end user friendly hinge pin system that makes replacing doors very easy. This provides full access to the interior of the enclosure in addition to cutting, drilling, or machining custom facings on the door itself.
Endurance Series Attributes
Fiberglass Reinforced Polyester Construction
Poured Polyurethane Seamless Gasket
Polycarbonate Hinge and Latch Hardware
AttaBox Endurance Series Industrial Enclosures are compliant with all industry standards for water-tightness, corrosion resistance, and even temporary submersible integrity. This includes NEMA 4X, along with IEC IP66 integrity.
The Endurance series offer UL certified protection for the most extreme environments or exposure to rain, sleet, wind, fire, UV and direct spray down. AttaBox Industrial Enclosures manufacturing produces products certified for UL508A, UL 50, UL 50E, as well as Canadian National Standard cULus, CAN/CSA C22.2 No. 94.1 and 94.2.