Portable Electric Tools: Bosch DPL1632 3-1/4 Inch Planer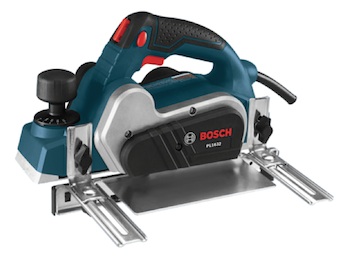 The new Bosch DPL1632 3-1/4 Inch Planer has a 6.5-amp motor and runs at 16,500 RPM for fast stock removal and smooth finish in soft and hard woods. It has a dual-mount guide fence with protective shield for steady planing of door edges with plastic overshoe to prevent marring of door faces.
The DPL1632 is te first-ever power planer to have ambidextrous "lock-off" release button to help avoid accidental starts, plus a lock-on button for extended operation.
Other features include:
Spring-loaded stand elevates tool to protect blade and tool resting spot; special shape allows easy entry in middle of workpiece
Ball-joint cord swivel for enhanced ease of positioning the tool and cord and for cord durability
Ratcheting depth knob allows fool-proof setting of depth increments from 0 to 1/16 In. (1.6 mm) within one revolution, eliminating the need to re-zero the depth
Aluminum front and rear shoes precision-machined together after assembly to ensure accuracy
Equipped with reversible Bosch Woodrazor® Micrograin mini carbide blade, which resists fractures from nail and staple strikes and lasts up to two times longer on PL1632 than standard carbide blades on other planers
Electronically-counterbalanced single-blade system automatically positions blade at ideal cutting angle eliminates uneven planing caused by misaligned blades, reduces drag, and provides fast operation and smooth finish
Separate inch and metric depth scales for easy setting of planing depth
Machined groove for chamfering
Optimally-angled handle for forward motion of tool with soft grip for comfort
Poly micro V drive belt provides enhanced belt durability