Abrasives: CGW Surface Conditioning Abrasives
CGW-Camel Grinding Wheels' surface conditioning abrasives quickly prepare work pieces for finishing.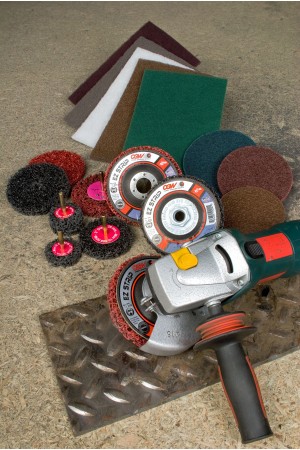 CGW's surface conditioning abrasives are made from nonwoven materials impregnated with abrasives for easy removal of materials such as sealants, paints and rust. Consisting of more than 100 products, the surface conditioning line contains EZ strip wheels, hook and loop discs, hand pads, interleaf wheels, surface conditioning flap discs and interleaf flap discs.
CGW EZ strip wheels can be used to remove a variety of materials including rust, paint and mill scale. EZ strip wheels are available in 2- to 8-inch diameters and in an assortment of attachment styles including roll-on, ¼-inch spindle and ½-inch arbor hole. The hook and loop discs are designed for quick changes, but have strong attachment capacities.
CGW hand pads are available in premium and economy grades to cover a wide range of applications. The interleaf wheels and flap discs contain alternating flaps of non-woven and coated abrasive materials for uniform surface preparation and finishes.
For more information, call 800-447-4248.
---