CM Man Guard Hoists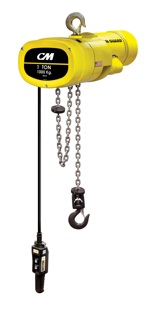 Columbus McKinnon Corporation is proud to promote the newly designed CM Man Guard Electric Chain Hoist in capacities from 1/4 to 3 tons. The core of the Man Guard is the overload clutch and heavy duty rating, but the hoist boasts numerous features that set it apart from other hoists in this category.
All CM Man Guard hoists feature an open design which allows for quick access to the brake and wiring for easy maintenance and adjustments. Following in the footsteps of the popular Lodestar, the CM Man Guard comes standard with a heavy duty AC disk brake.
The Man Guard comes standard with precision gearing and efficient electric hoist motors that are precisely designed for each speed and capacity. The result is less energy consumption required to operate the hoist as compared to its competitive counterparts; which makes the CM Man Guard more economical to operate while providing an environmentally friendly hoist alternative.
The CM Man Guard comes with single speed or variable frequency drive as standard units, with most units in stock ready to ship. The rigid hook mounting (standard) is interchangeable to other mounting options (sold separately).