Safety: CR919 Samurai Glove from Global Glove & Safety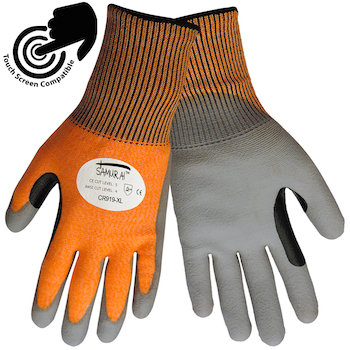 Be seen and be safe with the Cut Resistant Samurai Glove CR919 by Global Glove & Safety Mfg Inc. The Hi-Viz, ASTM Level 4 Cut resistance Samurai CR919 is a "must have" glove for handling sharp materials with the utmost in safety, comfort and visibility.
The CR919 also comes with a nitrile reinforced thumb crotch and "touch screen capability" for your inventory and order pulling needs.
The CR919 has a soft polyurethane dip over a cut level 4 High Visibility Tuffalene liner. It is available in sizes Small thru 2XL.
For more info, visit www.globalglove.com