Classen TA18 Compact Aerator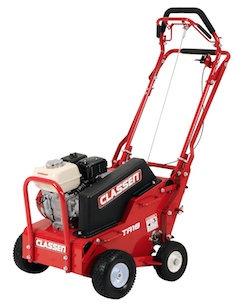 Classen introduces the TA18, the most compact aerator in its class. It features a compact body, a steerable tine bank and even weight distribution, which makes it highly productive for homeowners and landscapers since it can easily maneuver through tight spaces and aerate at a speed of up to 4.2 mph.
"The TA18 is one of the most compact aerators in its class, making it easy to transport and to navigate around landscaping — all while increasing productivity," said Bruno Quanquin, Classen vice president of sales and marketing.
At just 27.2 inches wide, the 46-inch-long aerator easily fits into tight spaces and through narrow gates. The compact size also works with the unit's steerable tine bank to easily maneuver around trees, shrubs and hardscapes and makes end of the row turning easier. A foldable handle cuts the transport size in half, reducing the length to 37.7 inches long and height to about 2 feet tall.
In addition to aerating close to obstacles, its high speed allows operators to aerate large, open areas quickly. With a Honda GX-120 engine, the TA18 achieves speeds as fast as 4.2 mph — the fastest operation and aeration speed in its class. 
The TA18 claims to produce the best quality of core in the compact aerator category. Featuring five banks of tine wheels, whereas competitive models only have four. The extra tine wheel and tight tine placement helps the TA18 pull 15 percent more holes, which allows for faster results. Its evenly distributed weight helps provide ample coring ability in turf soils and provides stability on hills, slopes and inclines.
The aerator features two ergonomically shaped, removable weights placed at the front and top of the unit. Competitors use block shaped weights that can pinch or water jugs, which make the unit difficult to move. The TA18, on the other hand, features rounded weights that are easier for operators to remove. Removing the weights makes the TA18 one of the lightest aerators on the market only 209 pounds– for easier lifting.
Integrated lift handles and built in tie-downs ease lifting and secure the unit in transport. Classen designed the TA18 for simple operation, by incorporating easy to reach operation controls that lower and engage the tines. The controls' foam grips cover the handles, making it more comfortable to operate with less fatigue than other small aerator units.
Classen mounted the TA18's drive sprocket in the center of the unit for easy-access, simplifying maintenance and cleaning. This significantly minimizes downtime at the rental center, which contributes to high utilization.
"We designed the TA18 with productivity and portability in mind," Quanquin said. "It's seriously simple to use and maneuver, which makes it a streamlined piece of landscaping equipment for DIYers, homeowners and landscapers."
Classen backs its compact TA18 aerator with a two-year rental and commercial warranty. To learn more about Classen equipment, visit www.classenturf.com.