Crescent Wiss Electrician Data Scissors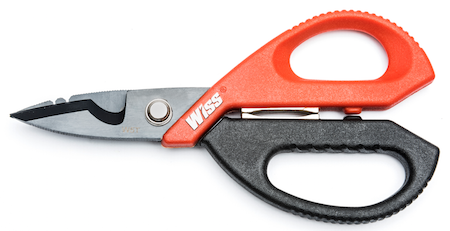 When you're looking to make the best scissors on the market even better, you can't cut any corners. Apex Tool Group introduces the new Crescent Wiss Electrician Data Scissors, taking durability and longevity to the next level with innovations that also improve performance.
The Crescent Wiss Electrician Data Scissors are designed with durable steel construction blades and titanium finish making it three times stronger than steel. The titanium-coated blades maintain the sharp cutting edge over the life of the tool while keeping the product from corrosion.
These scissors offer maximum utility with 19 AWG and 23 AWG wire strippers integrated on one blade and serrations on the outside of the other for reaming knockouts and conduit. Built-in cable cutter grooves give an added boost and grip for shear cuts, while the Grip Zone inside the scissor handle makes it easy to tighten and crimp low voltage connections.
"Cutting is one of our core competencies," according to Crescent Tools Product Manager Kevin Burnett. "We've been making innovative cutting tools for more than 100 years. Our product testing and extensive research and development measures result in advanced product differentiation and enhanced utility meeting the demands of our customers."
Crescent Wiss Electrician Data Scissor will be available at specialty hardware stores, home centers, online retailers and industrial and commercial distributors in January 2019. All Crescent/Wiss products, including this one, are manufactured in the United States in Lexington, South Carolina. For more information, go to www.crescenttool.com.