Compressors: DEWALT DWFP55130 200-psi Quiet Trim Compressor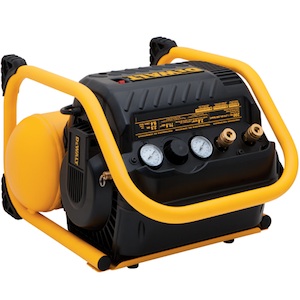 DEWALT introduces the 200 PSI Quiet Trim Compressor – model DWFP55130 – for professional users.
Global Product Manager, James Vintzel, said, "We focused on three main categories that pros found to be the most important; performance, size/weight, and noise level." This compressor is the culmination of continued efforts to optimize jobsite performance.
The DEWALT 200 PSI Quiet Trim Compressor features a 2.5 gallon tank that delivers 3.0 standard cubic feet per minute (SCFM) at 90 pounds per square inch, and is rated to 200 max PSI*. The ability to deliver both 3.0 SCFM and max 200 PSI allows the compressor to fire many nails with a quick recovery time.
The durable, oil-free pump provides maintenance-free operation. Jobsites can already be loud enough, so DEWALT has engineered the compressor to have an incredibly low 71.5 dBA** operating noise level.
On top of this, the efficient motor only draws 12 amps, providing easy start-up and reducing the possibility of tripping a breaker.
Measuring only 14 inches wide and weighing only 36 pounds, the DEWALT 200 PSI Quiet Trim Compressor is compact and portable.
A roll cage design creates a convenient and comfortable handle for transportation while also protecting the control panel and other vital internal components. The roll cage also allows the compressor to be used in two positions, horizontal for a lower center of gravity and vertical, for easy pickup height.
The shroud has a cord wrap for easy storage and the tank has a ball drain valve for quick and thorough tank draining.
The DWFP55130 is available now in the independent channel and is expected to retail for approximately $249.00.