Tool Boxes: DeMore Aerial Tool Bin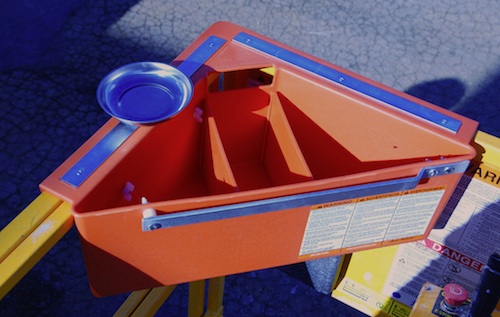 The ergonomic Aerial Tool Bin for aerial platforms, scissor lifts and boom lifts is designed to keep hand tools and supplies organized and within a worker's reach.
Developed by DeMore's Innovative Design, Inc., Milwaukee, Wis., the portable, triangular-shaped organizer attaches to square or rounded 90-degree corners of platform railings, where it is secured with two OSHA-compliant locking bolts. Constructed from reinforced, non-conductive, UV-protected orange polypropylene, the Aerial Tool Bin is designed to provide a safer, clutter-free working area by keeping tools and parts off the deck floor and at waist height.
The Aerial Tool Bin weighs 10 pounds and is designed to hold up to 50 pounds. It measures 17- by 17-inches, with a 26-inch front, and features three compartments with removable partition walls.
An optional multi-positional magnetic parts tray attaches to the metal strips on top of the bin.
A tool belt holder safely secures a worker's tool belt to the front of the bin. A built-in handle for easy carrying is incorporated in the design.