Stationary Tools: Delta 6- and 8-Inch Bench Grinders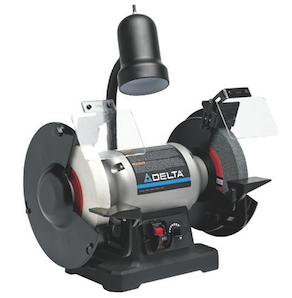 DELTA Power Equipment Corporation introduces two new bench grinders, an 8-inch, Model 23-199 and a 6-inch, Model 23-198, which make quick work of all grinding, sharpening, polishing and buffing operations.
Both DELTA bench grinders feature patented tool-less quick change nut and tool-less wheel cover that make changing wheels fast and easy.
They also feature variable speeds with an upfront speed dial allowing for easy control of speeds from 2,000 to 3,400 RPM, which offers an excellent level of control no matter what material the user is working with.
They also feature a cast iron base for durability and reduced vibration during operation and come with four rubber feet to help prevent movement. The full-size clear safety shields have thumb screws for easy adjustment.
Both come with a 36-grit coarse wheel for grinding and a 60-grit friable wheel for sharpening, and a diamond wheel dresser. The white sharpening wheel is used for sharpening tools and chisels. Its tool rest has a drill bit rest milled into the surface so the user will get the correct angle on the tip at all times. The two-piece tool rests are independently adjustable to minimize wheel wear and to provide a variety of angles for the user.
Each has a worklight (40-watt bulb not included) with separate on/off switch and flexible goose neck, providing illumination during set up and while grinding or sharpening, buffing or polishing.
The new DELTA® 6-inch Bench Grinder has a 2-1/2 Amp induction motor for long lasting performance. The 8-inch Bench Grinder features a 5-Amp induction motor to handle the toughest tasks.
The new DELTA® 6-inch and 8-inch Bench Grinders come with a Five-Year Warranty. The suggested retail price for the 6-inch Bench Grinder, Model 23-198 is $124.99; the suggested retail price for the 8-inch Bench Grinder, Model 23-199 is $169.99.