Adhesives & Sealants: Dow LIQUIDARMOR CM Flashing and Sealant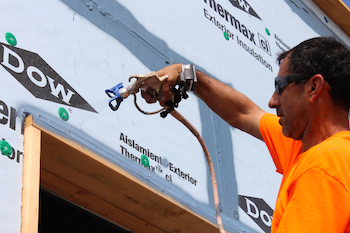 Dow Building Solutions introduces LIQUIDARMOR - CM Flashing and Sealant, an innovative, patented liquid flashing solution designed to provide commercial buildings advanced moisture and air sealing protection.
An innovative alternative to flashing tape, the elastomeric spray forms a tight, seamless barrier along the rough openings of windows and doors while helping to significantly reduce labor time. The new product offers an excellent alternative sealant solution to conventional flashing and sealing products for installation of THERMAX or the Ultra Air Barrier Wall Systems.
LIQUIDARMOR - CM Flashing and Sealant covers and seals hard-to-reach gaps up to a quarter inch wide and offers a reliable replacement to peel-and-stick flashing tapes commonly used on board joints of commercial buildings.
The versatile, water-based coating works on a wide range of surfaces, including foam boards, steel studs, concrete masonry units, tapes, wood buck, and wraps. With sprayable, aqueous technology, it facilitates a consistent application using commonly available airless paint sprayers, such as those sold through Titan and Graco, without measuring, cutting or special accessories.
Additionally, the non-hazardous, liquid flashing solution can be safely sprayed without a respirator or extra ventilation required.
LIQUIDARMOR - CM Flashing and Sealant is as much as three times faster than traditional flashing tapes, and helps cut down on overall installed labor time and costly call backs by getting the job right the first time.
It seals around screws, veneer anchors and penetrating fasteners, resulting in a durable and resilient barrier suited to withstand job site variations and long-term building performance. Once the LIQUIDARMOR - CM sealant sets to the final elastomeric solid, the treated area is protected and helps provide superior air leakage and moisture control as part of a joint treatment with Dow's commercial wall assemblies.
For more information, please visit the THERMAX Wall System or Ultra Air Barrier Wall System website.