Adhesives & Sealants: ECHOtape Contractor Pro Tapes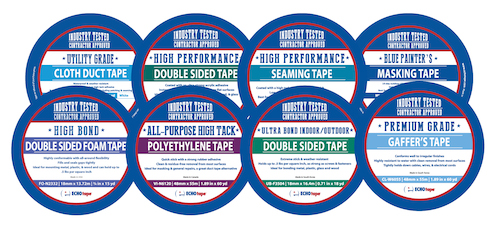 Contractor Pro Tapes from ECHOtape, a leading pressure sensitive tape supplier, are specifically designed for use in remodeling and new construction. Launched in early 2014, these have quickly become some of the best-selling tapes for everyday jobs and essential to any toolkit and job site needs.
Field tested and proven for years to come, each ECHOtape product can be specially customized for size, quantity and application to better suit the every-changing construction, contractor, and builder market.
CL-W6048 Utility Grade Cloth Duct Tape
Your all-purpose repair tape for indoor and outdoor fixes – patching, seaming, wrapping, and much more. Waterproof and weather resistant, it's coated with a high tack, natural rubber adhesive and sticks well to metal, plastic, concrete, and most surfaces. A job site essential.
Thickness: 7.5 mils
Carrier: Polyethylene Coated Cloth
Tensile: 17 lbs/in.
Adhesive: Natural Rubber
Adhesion: 41 oz/in.
Colors: Black, Blue, Green, Red, Silver, Yellow
CL-W6033 Premium Grade Gaffer's Tape
Secure cables, wires, and electrical cords in an instant. This vinyl-coated tape conforms well to irregular surfaces – without twisting or curling, and resists water, vapor, and abrasions. Ideal for marking, seaming, general repairs, and easy to tear with an exceptional grip.
Thickness: 10.5 mils
Carrier: Cloth
Adhesive Thickness: 3.75 mils
Tensile Strength: 45 lbs/in.
Adhesive: Rubber
Adhesion: 28 oz/in.
DC-UO32A High Performance Double Sided Tape
One of the most versatile double-sided tapes you'll ever need. With instant high tack for quick stick to many flat surfaces, it's ideal for mounting and bonding to metal, plastic, wood, and glass. Also great for temporary holding before affixing fasteners, it's a toolkit must.
Thickness: 9.5 mils
Carrier: PVC
Liner: Glassine Paper
Adhesive: Acrylic
Adhesion: >80 oz/in.
Temperature Resistance: 185°F (85°C)
Holding Power: (1"x1"x1000g) @ RT - > 60 min
Color: White
Temperature Range: -30°C to >100°C
DC-W188F Industrial Strength Double Sided Carpet Tape
For securely holding carpet in place during home or building construction, this woven cotton cloth tape is best in class. With an aggressive quick stick adhesive and residue free removal, it promises to the strongest hold and the easiest release possible.
Total Thickness: 11.0 mils
Adhesive Thickness: 4 mils
Carrier: 2.0 mil / Woven Cotton Cloth
Tensile: 28 lbs/in.
Liner: Polyethylene
Adhesive: Natural Rubber Based
Adhesion Exposed: = 40oz/in
Liner: 50 oz/in
FB-K4334 High Performance Seaming Tape
The ultimate masking tape for seaming floorboards together, holding mats, temporary hanging, and more construction applications. Plus it's made of heavyweight paper with a low curl, so it's easy to use and remove with no residue from most surfaces.
Thickness: 7.5 mils
Carrier: Natural Kraft Paper
Tensile Strength: 53 lbs/in.
Adhesive: Rubber
Adhesion: 50 oz/in.
Elongation: 2.5%
Unwind Force: 17 oz/in.
FO-N2332 High Bond Double Sided Foam Tape
Ideal for mounting metal, plastic, and wood, this high performance tape is a contractor favorite with its high conformability and all-around flexibility. Fills and seals gaps, bonds to irregular surfaces, and provides a great balance of tack, peel, and strength.
Thickness: 1/32"
Carrier: Cross Linked PE Foam (6PCF)
Liner: 60# White Glassine Paper
Adhesive: Acrylic
Adhesion: 64 oz/in.
Service Temperature: -22°F~ 194°F (-30°C ~ 90°C)
MK-K5463 Blue Painter's Masking Tape
For all the painting you do, indoors and out, this high-performance painter's masking tape is top-notch. With 14-day UV protection and easy, clean removal, it's ideal for masking drywall, glass, wood trim, hardwood floors, and just about every surface.
Thickness: 5.5 mils
Carrier: Blue Crepe Paper
Tensile: 21 lbs/in.
Adhesive: Natural Rubber / Resin
Adhesion: 24 oz/in. + 10%
Elongation: 8%
UV Resistant: 14 Days
MT-A7714 All Purpose Aluminum Foil Tape
Our high strength foil tape is top-of-the-line for patching, sealing, seaming and general construction applications. Coasted with a superior performance flame retardant solvent acrylic adhesive, it handles the cold and has good aging resistance indoors and out. UL 723 Classified.
Thickness: 3.2 mils
Carrier: 1.6 mils
Tensile: 10.2 lbs/in.
Adhesive: Flame Retardant Solvent Acrylic
Adhesion: 20 N/25 mm / 70 oz/in.
Temperature Range: -22°F to 248°F (-30°C to 120°C)
Application Temperature Range: 14°F to 104°F (-10°C to 40°C)
UB-F3504 Ultra Bond Indoor/Outdoor Double Sided Tape
Engineered for peak performance, this extreme stick, weather resistant tape holds up to .5 lbs. per square inch and is as strong as screws and fasteners. Extremely durable, it's ideal for bonding metal, plastic, glass, and wood-especially in cold temperatures.
Thickness: 43 mils
Liner: Red PE
Tensile: >25 lbs/in.
Adhesive: Acrylic
Adhesion: >110 oz/in.
Elongation: >500%
Temperature Resistance: -40°C to 120°C
Color: Grey
Water Absorption: % by Weight <5%
VI-N6120 All-Purpose High Tack Polyethylene Tape
A toolkit essential, this heavy-duty tape is best for masking and general repairs, seaming insulation, and temporary mounting. With excellent low-temperature bonding, residue-free removal from most surfaces and no curl, it's a great duct tape alternative.
Total Thickness: 7.0 mils
Carrier: Polyethylene
Tensile: 18 lbs/in.
Adhesive: 2.5 mils
Adhesion: 60 oz/in.
Elongation: 80%
Dielectric Strength: 7,650 volts
Colors: Black, Blue, Red, Transparent, White.
To learn more about the Contractor's Pro Tape Line, visit ECHOtape's website at www.echotape.com, call 800-461-8273, or email at info@echotape.com.