ESAB Savage A40 PAPR with Powered Air Purifying Respirator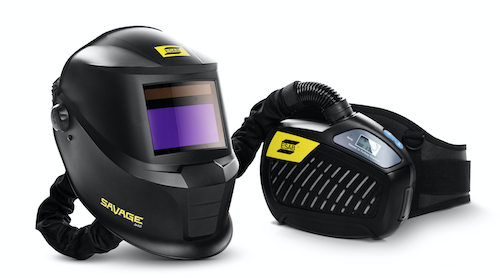 ESAB Welding & Cutting Products has launched its new Savage A40 PAPR with Powered Air Purifying Respirator (PAPR) technology, which will be for sale beginning in late January 2021. Helmets such as the Savage A40 PAPR are essential for workers in situations where welding fumes and particulates are a concern, such as for some cored wires, working in confined or poorly ventilated spaces and for protecting operators from hexavalent chromium fumes, which are generated from stainless steel, chrome alloys and chrome-coated metals.
The Savage A40 PAPR combines exceptional performance and value. The unit has three settings that adjust airflow between 170 and 230 l/min. to suit the environment and application. It operates at a quiet 70 dB and features a high-capacity, lithium-ion rechargeable battery that offers up to 8 hours of performance between charges.
"Savage A40 PAPR has a two-stage replaceable filtration cartridge that meets NIOSH certification and removes 99.9 percent of airborne particles," says Kevin Beckerdite, Global Product Manager – PPE, ESAB. "As an extra measure of safety, we added visual and audible alarms to signal low airflow."
Bigger, Better View
The high-tech Savage A40 PAPR helmet provides extreme comfort and protection in all processes. With a design inspired by the Sentinel™ A50 helmet, Savage A40 PAPR offers a 3.93- x 1.96-in. viewing area for a wider field of vision. Its 1/1/1/2 optical-class lens features ESAB's ultra-clear true-color technology for increased weld pool clarity and enhanced definition. Additional features include four light sensors, providing a high response, especially when welding out-of-position, and 9-13 shade knob.
"ESAB's ultra-clear true-color lens technology gives operators a better view of the weld puddle and surrounding area," says Beckerdite. "When precise bead placement counts, welders can count on the brighter view and enhanced color definition with the Savage A40 PAPR."
Like SENTINEL, welders can stay more productive with Savage's externally activated Grind Button. Even while wearing a heavy glove, welders can activate a shade 4 Grind Mode on the left side of the helmet. Grind Mode may be suitable for cutting processes as well.
Sensitivity and delay controls inside the helmet allow users to adjust the response to various welding conditions. Sensitivity control is an adaptable feature useful when TIG welding at low amperage for better reaction. Delay control enables the welder to set how long the lens stays dark after the welding arc stops. Short delay helps get the job done faster during tack welding, while longer delay is useful for high amperage welding.
At ESAB, we exist to shape the future of welding and cutting. We connect fabricators with the widest range of products under our industry-leading brand portfolio with the latest technologies to solve virtually any industry challenge — then we back it up with our knowledge, experience and passion to help them be more productive than ever before.
To learn more, visit esab.com or call 1-800-ESAB-123.