Enerpac Cordless Bar Cutter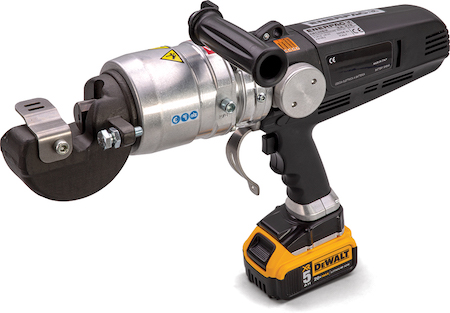 Enerpac introduces the Cordless Bar Cutter to its hydraulic cutters line. The new battery-powered model was designed for those who work in environments without access to on-site power. It is a portable, convenient, and safe solution where external power is not available or where spark risk is a concern.
Portable, self-contained, and convenient
Whether cutting rebar for residential or commercial construction or cutting steel and aluminum bars (whether round, hexagonal, or square) in industrial applications, the cordless technology in the Enerpac Cordless Bar Cutter provides complete freedom of movement. Because it has self-contained power, no external power source is required. This makes the tool completely portable.
Another convenient feature on the cutter is a 360-degree rotating head that offers two benefits: It allows the tool to be positioned flat on a work surface where metal bar can be fed through the blades from a comfortable working position, and it can be rotated in any orientation needed to finish hard-to-reach cuts on the jobsite. Another way Enerpac makes the tool convenient is by supplying it with two batteries and a charger so the operator can keep working when the first battery needs to be charged.
Minimizes Safety Risks
The new Enerpac cordless bar cutter is designed to minimize safety risks. Gas saws, angle grinders and cut-off tools are among the most popular solutions for cutting metal bar today, however these tools are also the leading causes of injuries to an operator's hand, arm or face. With the cordless bar cutter, the bar is held in place behind a protective guard. There are also no shooting sparks, exploding blades or exposure to high RPM cut-off wheels.
Precise Speed
The cordless bar cutter cuts most common rebar within seconds. It quickly cuts up to #6 (20mm) rebar and similar metals up to 0.79 in (20mm) in diameter. The cutter offers a controlled, shear cut that is repeatable—unlike rotating cuts that tend to walk or slide on the bar—providing a uniform precise cut every time.
Features and benefits include:
Cordless technology provides complete freedom of movement?
Rotatable head can be positioned for optimal access to application
Quickly cut through up to #6 rebar in 5 seconds
Up to 125 cuts on a single charge?
Highly durable blades make up to thousands of cuts?
No shooting sparks or exploding abrasive blades?
No exposure to high RPM cutting wheels?
Trigger Guard helps prevent accidental activation?
To learn more about the latest Enerpac tools, visit the Enerpac Innovations page on our website.
About Enerpac
Enerpac is a global market leader in high pressure hydraulic tools, controlled force products, portable machining, on-site services and solutions for precise positioning of heavy loads. As a leading innovator with a 110-year legacy, Enerpac has helped move and maintain some of the largest structures on earth. When safety and precision matters, elite professionals in industries such as aerospace, infrastructure, manufacturing, mining, oil & gas and power generation rely on Enerpac for quality tools, services and solutions. For more information, visit www.enerpac.com.