Estwing E10GCOMP 10 Gallon 5.5 HP Twin Stack Compressor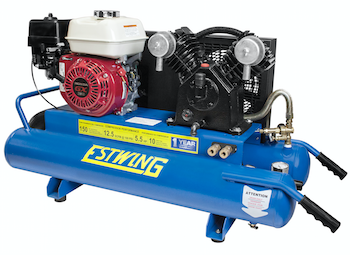 Estwing, a Rockford-based tool company, has introduced a 10 Gallon 5.5 HP Twin Stack Compressor through a licensing agreement with Prime Global Products, Inc., headquartered in the Atlanta area. The full line of Estwing pneumatic products will be displayed in the Prime Global booth (booth #7254) at the National Hardware Show in Las Vegas, May 8-10, 2018.
"A great air compressor is essential to a productive job site," notes Jason Richards, President of US Operations at PGP. "We believe the dependable Honda engine and cast iron pump, along with improvements we made on idle control and the front tire, will soon make the Estwing 10 Gallon Compressor a favorite among contractors. If you're in the market for a compressor that is built to last, starts every time, delivers consistent air, and has fast recovery, this is the compressor for you."
Framers, roofers, siding, decking installers and farmers, will find Estwing's new 10 Gallon 5.5 HP Twin Stack Compressor has the power and performance characteristics to consistently meet jobsite and shop demands.
At 190 lbs., the stout, twin stack, gas compressor is powered by Honda's GX 160 4-stroke engine that delivers reliable service and long-lasting performance. Its cast iron V-twin style pump and Big Bore™ cylinder operates at cooler temperatures, with enough power and reserve to run air tools simultaneously with rapid recovery. The 5.5 HP compressor has a maximum PSI rating of 150. Air delivery @ 40 psi is 14 SCFM and 12.5 SCFM @ 90 psi.
The compressor's 10 gallon, powder-coated steel, twin stack tanks provide constant air supply for multiple pneumatic tools. The compressor's pressurized, oil lubricated pump runs at cooler temperatures and provides constant lubrication to reduce wear and tear on key parts. A built-in, visual, oil level indicator allows the operator to monitor oil levels. The compressor also employs automotive industrial quality air filters to increase air intake for maximum operating efficiency.
An industrial grade recoil starter features an ergonomic design for faster and easier startups. Plus, the compressor's automatic idle control reduces fuel consumption.
An integrated control panel with oversized gauges provides clear view sight lines to monitor pressure. A pressure regulator dial and two universal ¼ in. brass quick-connector couplers also are integrated into the front steel panel.
The twin stack compressor has a ball drain valve at its base and non-slip rubber feet to dampen vibration. Also included is a 10 in., non-flat tire for easy mobility, especially around jobsites. The compressor has an 84 dba level at 5 ft.
Estwing's 10 Gallon 5.5 HP Twin Stack Compressor (E10GCOMP, $1,099 MSRP) will be available on HomeDepot.com, CPO.com, and other online retailers. The 10 gallon compressor has a one-year limited warranty.