Fairbanks Scales Series 5 Bench Scales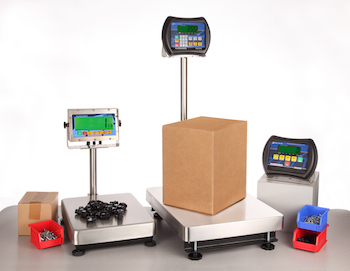 Fairbanks Scales, Inc., announces the release of the new Series 5 mild steel bench scale, a durable scale package designed to withstand the rigors of weighing for manufacturing, agriculture, shipping and receiving and more.
The Series 5 scale features a welded tube design, 4 built-in overload stops, and a stainless steel shroud to provide overall durability and protection of the precision load cell.
The bench scales are capable of withstanding the stress of demanding general industrial applications, with two size options and capacities ranging from 60 to 600 lbs.
The large diameter feet provide compensation for irregular surfaces, and with 2" of travel, the scale can be leveled to compensate for almost any surface.
Series 5 scales are available in a complete bench scale configuration, with a pillar and Fairbanks instrument, as well as in a standalone base configuration for use with any analog instrument. The Series 5 is a rugged stand-alone bench scale that also provides the flexibility to add an instrument, instrument pillar, or ball top; making this bench scale ideal for many industrial applications.
To request more information, please call (800) 451-4107, or visit www.fairbanks.com.