Festool TS 60 K Track Saw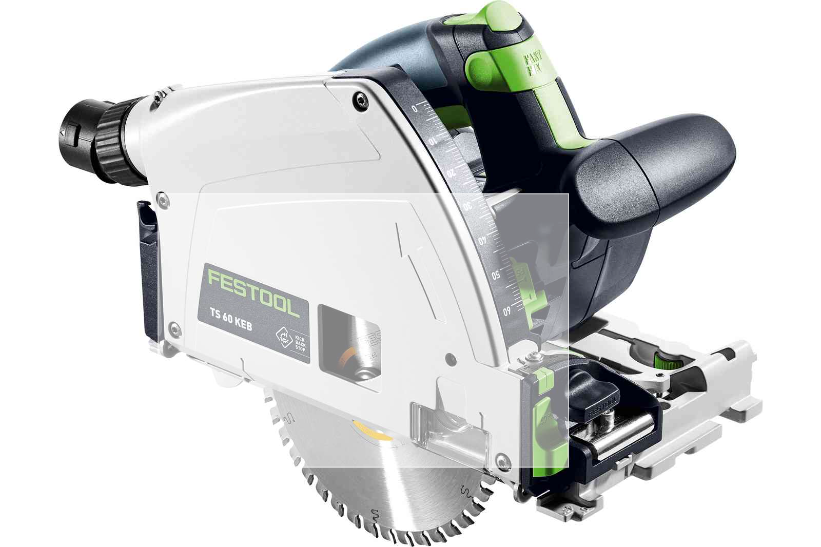 Festool track saws have been setting the standard for saws for decades. The TS 60 K is redefining this yet again. In the blink of an eye, the unique Kickback Stop protects your workpiece and helps to minimize the risk of injury. Designed to work with the entire Festool saw system and with a cutting depth up to 2-7/16" (62 mm).
The most versatile saw of its kind guarantees you premium work results whether ripping, cross-cutting, beveled and angle cuts and thick materials.
The TS 60 K now offers the unrivalled opportunity to combine it with the FSK cross-cutting guide rail. In just a few steps, this produces a portable and easy-to-use compound miter saw system for accurate angle cutting.
Thanks to the latest-generation brushless EC-TEC motor, the compact plunge-cut saw is extremely robust and powerful. The TS 60 K delivers unbelievable performance, combining precision, flexibility and the highest cutting quality – and with the industry-first Kickback Stop mechanism that actively reduces kickback. The TS 60 K: the new benchmark in circular saws.
The unique KickbackStop helps to reduce the risk of kickback during sawing or plunge-cutting into the workpiece
Greater cutting depth, at the same size and weight as the TS 55 F
Option to combine with the tried-and-tested guide rails and now with the FSK cross-cutting guide rails
Powerful EC-TEC motor in combination with the thin kerf saw blades ensures work progresses quickly while requiring less effort
Simple, precise and repeatable beveled cuts can be achieved by setting bevel angles from -1° to 47°
The FastFix spindle lock and sophisticated design make it extremely easy to change the saw blade
The transparent sliding sight window provides a good view of the saw blade