GEARWRENCH Customizable Mobile Work Station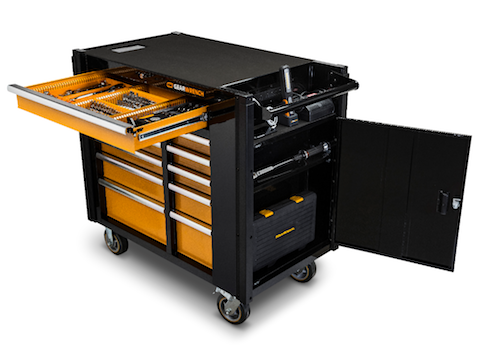 To solve a problem, sometimes you need to think outside the box. In this case, premier hand tool brand GEARWRENCH actually went and built a better box.
GEARWRENCH, part of Apex Tool Group, recently unveiled its new Mobile Work Station, built to addresses common pain points from plant maintenance professionals across a wide range of industries. The innovative design blends practical functionality and durability with customizable features that give professionals the freedom to make the Mobile Work Station work for them.
"One of the things you notice in working with maintenance professionals is that often times, their boxes are being used in a way that's far from what they were initially designed for," said Paul Steinweg, Director of Marketing. "Most toolboxes that roll around a plant get retrofitted in a less than optimal manner with ad hoc wheels and other modifications to suit one-off needs, so we wanted to create something that anticipated and met those needs in advance. I don't think anyone else has anything like it out there."
FORGED BY RESEARCH
This type of Mobile Work Station is a first for GEARWRENCH, which traditionally has focused on the tools that are inside the box rather than the box itself. Steinweg invited a group of industry professionals to share their frustrations with their rolling boxes and then asked them to draw out what they thought would make the ideal setup. Some of the pain points included wheels that were too small and a lack of customization options.
The GEARWRENCH Mobile Work Station glides on industrial grade 6x2-inch-wide polyurethane locking casters that support a max capacity of 2,000 pounds. With 11 different-sized drawers—including a full-size top drawer with adjustable partitions—and a lockable side cabinet with adjustable shelf, the 19,000 cubic inches of storage space is flexible enough to fit whatever tools the job needs. The drawers boast 100-pound capacity ball-bearing locking drawer slides.
The station is large enough to function as a work space complete with vise-mounting capability, but at 42x24.5 inches, it's compact enough to roll through most standard work areas. With a charging tray and power strip with six 120-volt outlets and two USB ports, users can charge tools and power electronic devices that might be needed. A spray can shelf and pegboard panel offer even more options for customizable storage of tools, power cords, hoses, and more.
The GEARWRENCH Mobile Work Station is available from industrial and commercial distributors, as well as automotive warehouse distributors.
GEARWRENCH is a premier hand tool brand from Apex Tool Group. Since the launch of the original five-degree ratcheting wrench, the GEARWRENCH brand has led the industry with breakthroughs in pass-thru ratchets, sockets, screw/nut drivers, pliers, and specialty tools.
For more information, visit www.gearwrench.com. About Apex Tool Group Apex Tool Group, LLC is one of the largest worldwide producers of industrial hand and power tools, tool storage, drill chucks, chain, and electronic soldering products. Apex serves a multitude of global markets, including automotive, aerospace, electronics, energy, hardware, industrial, and consumer retail. For more information, visit www.apextoolgroup.com.