GREEN LINK Custom Support Stanchions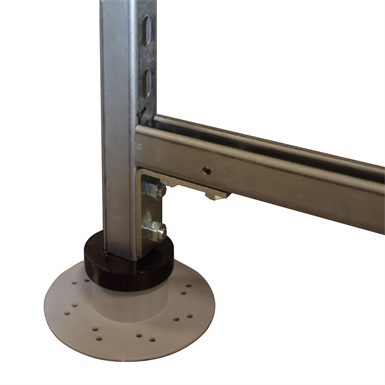 When local building codes require that equipment such as air conditioning units and compressors be elevated off rooftops to allow snow and water accumulation to flow underneath, Green Link Engineering's Knucklehead Stanchions and new Mechanical Support Products are the solution.
The Stanchions feature a vertical slotted channel with an over-molded urethane footing, which is threaded and designed to mate to the center bolt of GREEN LINK's KnuckleHead Bases. Support rails can be set into the slots and secured with brackets to form a structural frame.
Installed, the stanchion allows equipment to be elevated from 6" to 24" off the roof or ground surface. Once the height is set, the channel slots allow support rails to be moderately adjusted so equipment can be optimally levelled.
"Some codes require that equipment like AC units, compressors, mini-splits and such need to be elevated because of snow, ice and water accumulation," said Green Link Technical Director Lisa Mulder. "We designed the stanchion to provide maximum stability and support. Each stanchion delivers compression load of up to 2,250 pounds with tensile strength up to 1,200 pounds."
The Stanchions are sold separately or as part of the Elevated Mechanical Support Assembly kit offered by GREEN LINK. The kit includes KnuckleHead Stanchions, support rails, equipment rails, and necessary hardware for constructing 3'X4' or 4'X4' support frames.
Custom lengths are available upon request.
GREEN LINK is an innovative engineering company that develops and produces polymeric architectural products for the construction industry. All products are produced in the U.S.A. For additional product information contact GREEN LINK.