Graybar SmartReel Portable Wire and Cable Payout System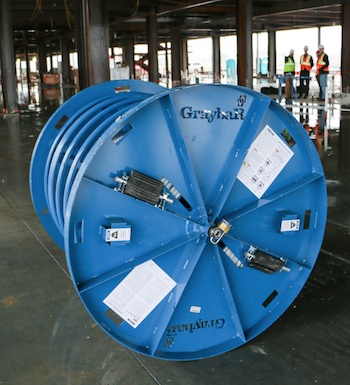 Graybar announces the nationwide rollout of Graybar SmartReel, a one-of-a-kind portable wire and cable payout system that allows one person to move reels up to 5,000 lbs.
Graybar SmartReel makes wire pulls easier than ever, saving contractors and end users time and money. This innovative portable payout system is simple to set up and works with any manufacturer's cable using single or multi-compartment reels. Furthermore, Graybar SmartReel's removable reel makes cable change-outs a snap – no pallet jack or separate neutral reel required.
"Graybar's warehouse and services teams created SmartReel to solve the longtime challenges customers have faced in managing and pulling wire and cable on the jobsite," said Todd Reed, Graybar National Market Manager. "SmartReel is available only from Graybar, and like the portfolio of other great services we offer, such as staging, kitting and inventory management, it's designed to help contractors work faster and more efficiently."
"What I like most about Graybar SmartReel is the ease of setup," said Steve Lindquist, Job Foreman, MEI. "Setup time is reduced by about 45 minutes and can be accomplished by one electrician. Additionally, SmartReel can easily be moved during the pull when changes are needed. I would absolutely use Graybar SmartReel again."
Graybar SmartReel is now available. For more information, visit www.Graybar.com/SmartReel.
Graybar, a Fortune 500 corporation and one of the largest employee-owned companies in North America, is a leader in the distribution of high quality electrical, communications and data networking products, and specializes in related supply chain management and logistics services. Through its network of more than 260 North American distribution facilities, it stocks and sells products from thousands of manufacturers, helping its customer's power, network and secure their facilities with speed, intelligence and efficiency. For more information, visit www.graybar.com or call 1-800-GRAYBAR.