Greenlee TG-2000 Infrared Thermometer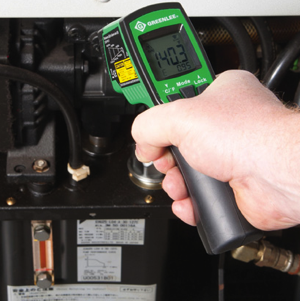 Greenlee, a Textron company (NYSE: TXT) introduces its new TG-1000 and TG-2000 Infrared Thermometers. Both feature the high optical performance, measurement accuracy and quality necessary for the industrial, HVAC/R, electrical, utility and MRO/facility maintenance professional.
"We designed both infrared thermometers to provide speed, convenience, accessibility and safety when taking temperature measurements," said John Fee, Senior Product manager.
Both Greenlee IR thermometers include the capability to display temperature in either Fahrenheit or Celsius, offer vivid backlight displays, digitally adjustable emissivity, adjustable high-low temperature alarms, plus minimum, maximum, difference and average functions.
The Type-K thermocouple input on the TG-2000 provides the accuracy needed for critical measurements of metallic objects, internal temperatures and ambient temperatures with the flexibility of choosing probe styles for the task at hand.
According to Fee, "Temperature is often the first indication of a developing problem and IR thermometers can be used as a screening technique for situations that may require further analysis with other Greenlee tools such as a digital multimeter or clamp meter. A non-contact IR thermometer allows the end-user to stay a safe distance from the object and get the most accurate readings across a wide range of temperatures."
For more information on Greenlee's new infrared thermometers, or other products from Greenlee, call 1-800-435-0786 or visit the Web site.