HTC DURATIQ 5 Grinder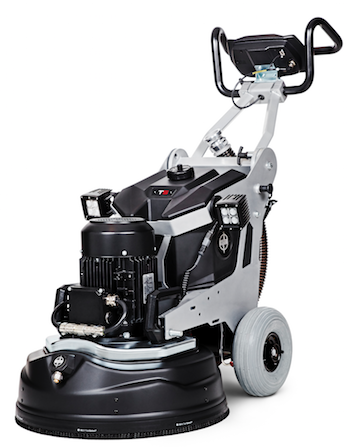 HTC – innovator in floor grinding – is now adding an entirely new DURATIQ 5 to its award-winning DURATIQ line of grinders. The DURATIQ 5 has a grinding width of 20 in (515 mm) and is available in two models – one with a motor rated at 3 hp (2.2 kW) and the other at 5 hp (4.0 kW).
Both models have an entirely new design with the focus on ease of handling and power, which are key factors in this popular machine segment. At the same time, the DURATIQ 5 boasts features that are unique for its size. The DURATIQ 5 models will replace the ever-reliable HTC 420 and HTC 500.
Below are just some of the 75 new features on the DURATIQ 5:
Digital control panel provides full control of the DURATIQ 5's capacity and functions, unmatched by any other grinder of this size
New grinding head, hermetically sealed and dustproof for maximum reliability
Effective and energy-efficient motors for higher grinding performance
Modular chassis and grinding head with quick couplers for easy transport and optimal handling
Mist Cooler System increases productivity 78%
Easy-to-handle weights enable three different grinding pressures
20 different handle settings for optimal ergonomics
With its compact dimensions, the machine is suitable for both small and medium-sized surfaces. HTC's assortment includes more than 120 compatible tools, making the DURATIQ 5 a very versatile machine. It can handle everything from grinding concrete and other rough surfaces to polishing natural stone and sanding wooden floors. The DURATIQ 5 has been developed from the ground up by HTC's own R&D department based on the same technology as its big brothers, the DURATIQ 6 and 8. Because of the precise yet extremely robust design of every component, the service interval is an impressive 1,000 hours.
Joe Taylor, HTC's USA Director of Marketing summarizes his thoughts on the launch: "We're proud to continue the progression of development from the popular HTC 420 and 500, and to again offer our customers a more powerful yet ergonomic machine. The Duratiq 5's digital control panel provides operators with an overview of the machine's performance and functions in an entirely new way. We're confident that the insights provided by the new controls will benefit operators with improved efficiency and confidence. We're tremendously proud of how our R&D department has succeeded in applying the technology developed for our larger models and adapting it to this new compact format."
Discover the advantages of DURATIQ grinders at www.duratiq.com.