Material Handling: Hamilton Caster
A simple request for a caster from gas-and-oil drilling giant Helmerich & Payne (H&P) led to a custom-designed dolly and collaboration on lean enterprise with US manufacturer, Hamilton Caster.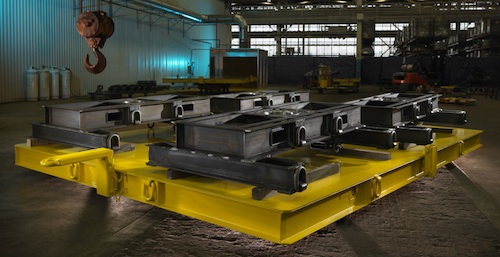 H&P contracted with Mike Brunson, a lean manufacturing expert, to streamline their processes and increase efficiency. Brunson asked Hamilton about a specific caster and learned they could also design custom-built trailers perfectly suited to the lean manufacturing methods Brunson envisioned for H&P.
Hamilton Caster itself is a lean manufacturing practitioner and John Yater, a Hamilton design engineer, is one of the company's biggest proponents of the concept. Yater worked closely with Brunson to determine how best to satisfy the lean design he had in mind for H&P.
"The trickiest part is getting a clear understanding of the customer's application, intentions, and desires." Yater said. "We strive to solve customers' problems and forge a relationship of trust."
After a series of phone calls and emails, a Hamilton Caster team flew to Oklahoma to meet with Brunson and get a first-hand look at the requirements of the new process they were helping design.
"I needed something that could handle extreme weight and had a low profile," Brunson said. "Hamilton Caster solved the problem by creating a cart that effortlessly rolls heavy equipment into place without relying on a crane that is more dangerous and time-consuming."
The modular dolly system that Hamilton Caster developed moves massive pieces of oil-field equipment and parts more safely and more efficiently, decreasing wasted time, energy and manpower, all core principles of lean manufacturing.
Hamilton Caster's first project with H&P was so successful that it has since led to other projects with H&P.
"Working with Hamilton Caster is a pleasure," Brunson said. "It's nice to find an American manufacturer who has been around for 100 years, and is taking appropriate steps to be around for another 100 years."
For more than 100 years, has built ultra-durable trucks, custom-engineered trucks and trailers, and developed innovations like the super-resilient Ultralast™ wheels and HPI™ swivel caster technology.
Family owned since its inception, the fourth generation remains as committed to quality as the company's founder, John Weigel.