Hand Tools: Arrow TacMate T50X Stapler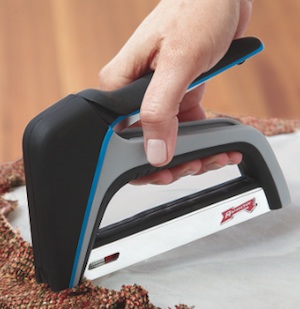 Arrow Fastener Company's new TacMate T50X stapler is a compact, ergonomic tool that doesn't sacrifice power for size – a tool today's do-it-yourself (DiY) consumers will want to own and trade professionals will want to use at home or on the job.
The TacMate stapler is unique in its class: A smaller-sized, professional multi-use tool with power equivalent to large, professional staple guns. Plus, its smaller size makes it easy to squeeze and easy to hold without sacrificing power or precision.
The TacMate stapler is a heavy-duty, well-built device that looks as good as it works. The advanced polymer housing construction is durable yet still lightweight; it is built to last. The shorter grip span makes it comfortable for hours of continued use.
The non-marring tip is designed to help protect the work surface from any scratches or dents that can be caused by the tool. Since it is lightweight and smaller than most staplers of comparable power, it's easy to store and less likely to cause any damage if dropped.
The easy-opening magazine latch and bottom loading makes inserting staples easy – no pusher rod to lose or bend – saving you time for the job at hand. The unique latch mechanism makes changing staples a breeze and the integrated color coding ensures you buy the right staples for the gun every time.
The blue color in the T50X is not just decorative; you easily can match the gun color to the staple color on the box to make sure you are purchasing the correct staples.
While its small size makes the tool easy to grip and easy to squeeze, it shoots the same standard T50 staples as other models. The release shoots up to a ½-inch staple. The magazine holds up to one full strip of T50 staples at a time.
For more information, visit www.arrowfastener.com.