Hy-Brid Lifts PA-1030 Push-Around Lift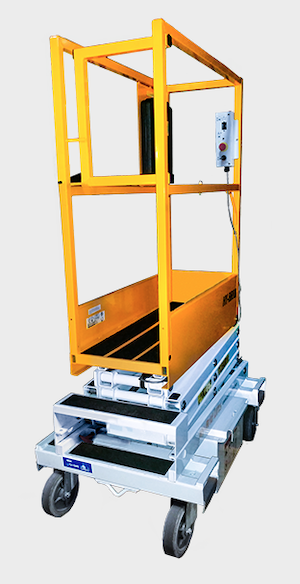 Hy-Brid Lifts, an industry leader in high-quality, low-level access equipment, offers a PA-1030 push-around lift with a customized platform designed for textile mills. The narrow platform and lift base size make the lift easy to move through aisles to aid in cleaning of HVAC applications, effectively removing the inherent dangers associated with ladders.
Hy-Brid Lifts offers the only customized lift solution tailored to the needs of the textile industry. The customized design offers a reduced platform width of 18 inches and a reduced base width of 29.5 inches, which allows the lift to fit between objects at height where larger rails on other lifts didn't fit. The feature, first designed for a textile manufacturing customer, provides a solution for the rising number of accidents and injuries associated with ladders.
"Hy-Brid Lifts has never been a 'me too' product," said Terry Dolan, Hy-Brid Lifts president and CEO. "Every lift we design is inspired by personal experience and customer feedback. It truly is purpose-driven innovation built around keeping our customers safer and productive."
Customized from the platform of the PA-1030, which offers a platform width of 20.5 inches, the customized PA-1030 features a compact platform and cage design of only 18 inches in width. True to Hy-Brid Lifts' design hallmarks, the textile mill lift meets or exceeds all safety standards and regulations and offers a lightweight machine weight of 893 pounds and non-marking tires to prevent any damage to floors.
The lightweight design, which doesn't sacrifice lift capacity, protects the sensitive flooring often found in mills. Many mills are located inside historic factory buildings with sensitive flooring where preservation is critical.
The all-purpose lift allows users to handle multiple applications up to working heights of 16 feet. The PA-1030's platform provides a substantially larger working area than ladders — 18 inches wide by 42 inches long — with a low step-in height of 26 inches. The lightweight lift features a zero-turn radius for easy maneuverability around tight corners and through confined spaces.
The custom lifts can be equipped with an absorbent glass mat (AGM) battery that makes the unit virtually maintenance free because it never requires users to add water. The PA-1030 also features a self-regulating charger that prevents the battery from over-charging, which shortens the lifespan of other rechargeable batteries.
Additional features of the PA-1030 include a tool holder, parts tray, USB chargers on the platform, total-lock rear casters and auto-lock brakes on the front tires.
The push-around lift segment is quickly being recognized as a top choice among maintenance and safety managers, as they look for more effective ways to provide increased safety and productivity on jobsites. Falls from a ladder remain a top cause of injury on the worksite, most commonly occurring because of improper ladder use. Low-level lifts provide more capacity, working space, and a smaller footprint than ladders, and the lifting feature virtually eliminates risk of repetitive strain injuries or falls.
Hy-Brid Lifts is a brand of Custom Equipment LLC. Hy-Brid Lifts engineers and manufactures all-purpose lifts in electric self-propelled and push-around models. The low-level lifts offer exceptional capabilities in a heavy-duty but lightweight design, are easy to maneuver and reach working heights up to 22 feet. Contractors and maintenance technicians can use them from start to finish for a wide range of applications in industries as diverse as construction, drywall, electrical, HVAC, painting and plumbing, industrial manufacturing and facility maintenance.
For more information: Hy-Brid Lifts, 2647 Highway 175, Richfield, Wis. 53076; 262-644-1300; fax 262-644-1320; sales@hybridlifts.com; www.hybridlifts.com