Material Handling: IPG Stainless Steel Semi-Auto Case Sealer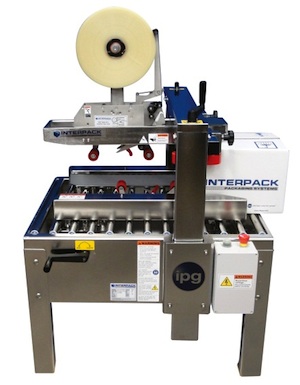 Intertape Polymer Group has added a new uniform semi-automatic stainless steel case sealer to its line of Interpack brand complementary packaging systems.
The base system is the Interpack USC 2020-SB designed and constructed for low to medium volume applications. The machines are adjustable, operator fed, and process same sized regular slotted carton (RSC) style cases.
Now available in food grade 302-304 stainless steel and NEMA 4 electrics, the USC 2020-SB SS case sealer is ideal for non-caustic wash down applications. "This new machine is the perfect solution for any food processing facility where exceptional performance and reliability are priorities," said Joy Scott, Machinery Product Manager.
"All Interpack machines add value with best-in-class features and benefits for every market segment. Most competitive stainless steel case sealers do not offer NEMA 4 electrics as standard, which can add thousands of dollars to the cost," explained Mike Maguire, Sales Business Development Manager.
For more information, please contact Joy Scott at jscott@itape.com.