ITW Muller Octopus SideKick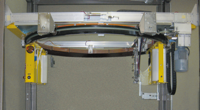 ITW Muller introduces its Octopus SideKick. A true partner for the Octopus line of stretch wrapping machines, the SideKick is a second carriage that can be added to almost any new or existing Octopus machine.
The SideKick operates as an independent film carriage that will automatically rotate into primary wrapping position upon the film being depleted or breaking. This automated feature eliminates one of the biggest sources of downtime- waiting for the operator to respond after a film issue. Because the Octopus can now run two rolls of film before needing attention, the operator only needs to address the machine half as often- freeing up time to manage other tasks. "We are always looking for ways to help our customers increase productivity," says Dan Schmidt, Business Development Manager at ITW Muller. "The SideKick is a simple solution that can lead to big savings."
The SideKick is easy to maintain as it does not require an additional cut, clamp, or heat seal system. In addition, one carriage could be removed for maintenance while the second carriage continues to wrap. It's also easy to operate since it's completely automatic and is designed with minimal moving parts. "The SideKick acts as an insurance policy against one of the film carriages going down or getting damaged," adds Schmidt. "It's also a terrific alternative for customers who don't have room for the Auto Roll Changer (ARC) since the SideKick does not add to the footprint of the machine."
For more information about ITW Muller, its products and services, contact directly at email: sales@itwmuller.com, phone: 1-800-OCTOPUS (1-800-628-6787).