Gas Engine Equipment: JCB American-made skid steers and track loaders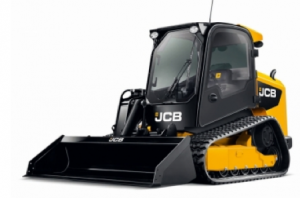 JCB introduces an exciting new line of highly productive and reliable skid steer loaders and compact track loaders. These "New Generation" machines are the first to not only be manufactured but also designed and engineered at the company's North American headquarters in Savannah, Ga.
The line includes seven new skid steers—four wheeled and three tracked—in a range that will eventually grow to 18 models. All seven machines are vertical lift, which allows for increased capacity and more reach at maximum lift height. The models now available—the 260, 280, 300 and 330 wheeled skid steers and 260T, 300T, 320T compact track loaders—are large platform machines with rated operating capacities (ROC) of 2,600 pounds and above. With the introduction of the New Generation machines, JCB will be able to offer a complete range of wheeled and tracked machines, both radial and vertical lift, ranging from 1300-3500 pounds.
The new generation machines benefit from a number of new features, including:
A tilting cab with increased service access
Multifunction joysticks
A hydraulic quick hitch Isolated cab that is sealed and pressurized with reduced noise levels
Heated air-suspension seat with adjustable armrests
O-ring face seals for all hydraulic connections
A new range of more than 30 types of JCB attachments
By combining JCB's history of innovation with a number of additional enhancements, the New Generation machines offer an even wider range of benefits than the company's previous skid steer and compact track loader product line:
Best-in-class visibility. The new vertical lift machines showcase JCB's unique "PowerBoom" design, which uses a single arm, rather than the conventional two arm skid steer design. The JCB models do not require a torque tube across the back of the machine. Thus, operators can enjoy an unobstructed rear view and better all around visibility for unmatched job site safety and driver confidence. To further enhance visibility JCB has eliminated the mesh screen on the cab machines and replaced it with laminated glass.
Best-in-class serviceability. With O-ring face seal hydraulic fittings and a simplified design resulting in 38 percent fewer parts, JCB's new machines are even easier to service. A new tilting cab design gives technicians improved access to the machine's power train and hydraulic components. The new models also feature a rear service door for easy access to the engine and daily checkpoints, a top-opening hood for radiator access and a hinged radiator for improved engine access.
Outstanding operator comfort. The new generation machines have a larger entry door and a 17% larger cab than previous models. JCB has also introduced multifunction joystick controls and an optional heated air-suspension seat with adjustable armrests. Control panels have been relocated to be within the operator's line of sight. Other available creature comforts include cup holders, MP3 player compartment with charging outlet and auxiliary plug, optional stereo package and an electronic throttle. Operators will also enjoy a quieter cab with noise levels at a very low 76dBa, an 85% improvement.
Versatility and performance. Switching to any of the machine's impressive 30 attachment families is a snap thanks to a standard universal mechanical hitch or an optional hydraulic quick hitch. Parallel lift and 2-speeds make it easy to maneuver around the job site and complete more tasks in less time, and with the introduction of an optional Smooth Ride System (SRS) transporting materials over rough terrain has been made easier.
Unmatched safety. As in previous models, the New Generation skid steers and compact track loaders feature a unique left side entry door that allows the operator to enter and exit the machine clear of the attachment and loader arm, making it the industry's safest skid steer.
Exceptional value. Owning a JCB skid steer or tracked loader costs less due to increased productivity and serviceability. Overall fuel consumption has been reduced 15% equating to an estimated annual savings of more than $3,000 versus competitive machines (based on an off-road diesel price of $2.90).