JET JWS Series Web Strap Hoists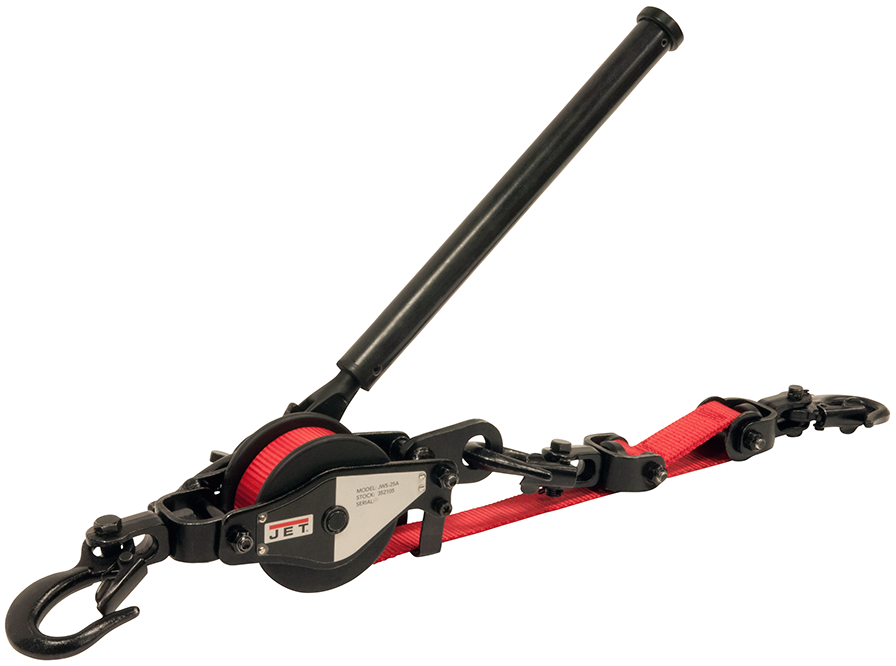 JET's new JWS Series Web Strap Hoists provide unrivaled safety, dependability and long service life for a wide range of lifting, pulling and holding operations. They are precision-engineered and constructed of premium materials to ensure reliability, boost productivity and minimize downtime.
JET JWS Series Web Strap Hoists have numerous uses in plant maintenance, public utilities, construction, automotive garages, farming, and other industries. Some typical applications include releasing tension of power lines, holding materials together, installing fences, pulling pipe, and straightening poles.
The new JET web strap hoists feature an open housing design that allows quick cleaning and fast daily inspections. Durable components, including corrosion-resistant stainless steel springs, bronze bushings, drum shafts, self-lubricating bearings and drop-forged steel hooks, ensure safe, reliable service and durability in demanding work environments.
JET JWS hoists also are designed with an isolated ratcheting gear, oversized strap guide and bottom block assembly to guide the web strap smoothly onto the drum and prevents it from binding. A friction brake and double interlocking pawls allow for precise, micro-inching when lowering loads.
The fiberglass handles of JWS hoists are built for rugged duty, and are tested and certified to withstand 15kV/1 ft. for 1 minute. The hoists' 1:1 gear ratio requires minimal handle effort and provides up to 1½" lift per 45o handle stroke.
The hoists' large, drop-forged, alloy steel swivel hooks rotate 360° and are equipped with steel safety latches. JET JWS Series Web Strap Hoists comply with ANSI/ASTME B30.21standards.
JET JWS Series Web Strap hoists are backed by a lifetime warranty, as well as JET RED Assurance, the industry's most dependable service and support guarantee with more than 550 service centers nationwide.
JET JWS Web Strap Hoists come in single or double pull models with capacities of 1 or 1-1/2 Tons.