Jenny Electric Hand-Carry Compressors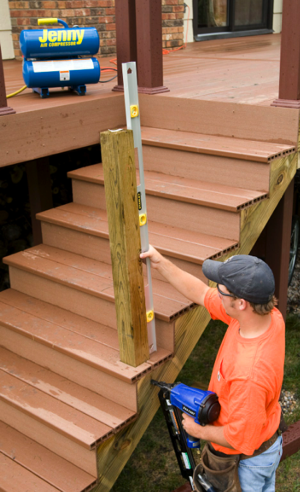 Jenny Products, Inc., electric hand-carry compressors are lightweight, compact, and offer the convenience of an easily maneuverable compressor option for do-it-yourself homeowners and professional contractors.
The compressors feature a single-stage, direct-coupled pump, built with a cast-iron cylinder for longer service life and an aluminum head to allow better dissipation of heat. All four electric hand-carry models feature 2-horsepower motors. Air tank sizes range from 1.5 gallons on the smallest compressor to 6 gallons on the largest, with two models offering 4-gallon air tanks in either a vertical or horizontal configuration.
Operating on 115 volt power, the hand-carry compressors each deliver up to 4.1 CFM @ 100 PSI or 3.6 CFM at 125 PSI for quick recovery. The motor includes a start/stop pressure switch control set at 105 to 125 PSI, a standard on/off switch, and a thermal overload protection feature with manual reset.
Designed to operate with minimal maintenance requirements, the hand-carry compressors are equipped with several protective features. For thorough lubrication of the compressor's pistons, crankshaft, bearings, rings and cylinders, each unit comes with an initial oil fill of Jenny "Ultimate Blue" compressor-pump oil. Each model also includes a canister intake filter with replaceable filter elements, protective mounted fittings and a forced ventilation cooling system.
For optimal durability during use in demanding construction applications, the compressor's tank and frame assembly is constructed of powder coated, heavy-duty steel. Additionally, each unit is equipped with anti-vibration feet for stability on the job site.
Other standard features of the electric hand-carry compressors include manual tank drains, a pressure relief safety valve, an air-line regulator, line and tank pressure gauges, and special unloading valves to assist in motor starting.
With roots dating back to the 1870s, Jenny Products, Inc. has been an OEM manufacturer for several major manufacturers of air compressors. Today, Jenny manufactures and markets its own line of hand-carry, wheeled-portable and industrial-stationary air compressors. For more information on its line of equipment, contact Jenny Products, Inc., 850 North Pleasant Avenue, Somerset, PA 15501-1069, call 814-445-3400, fax 814-445-2280 or visit the website.