Compressors: Jenny G-Series Electric Portable Wheeled Compressors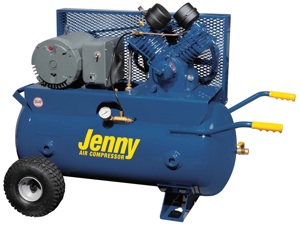 Jenny Products, Inc. offers its wheeled-portable G-Series air compressors with electric power. The units are designed, tested and proven to meet the tough demands of any professional.
The electric-powered G-Series compressors are available in eight different models to accommodate many needs. They are offered with 8-, 15-, 17- and 30-gallon air tanks, and they come with either 3- or 5-horsepower motors. The 3-horsepower models produce 13.8 CFM at 100 PSI or 13.5 CFM at 125 PSI. The 5-horsepower models produce 18.3 CFM at 100 PSI or 17.8 CFM at 125 PSI. All models operate from a 230-volt, single-phase power source.
For long-lasting performance, the compressors are built with heavy-duty cast-iron compressor pumps and powder-coated air tanks. They also contain directional air shrouds and large flywheels for enhanced pump cooling and easy start-up. Furthermore, Jenny's professional-duty "Ultimate Blue" synthetic pump oil protects the pistons, crankshafts, bearings, rings and cylinders through a splash lubrication system.
Additional items have been built into the compressors to prevent damage from harsh jobsite conditions. These include protectively mounted fittings and heavy-duty, totally enclosed belt guards. Other standard features include pressure relief safety valves, large canister intake filters with replaceable filter elements, manual tank drains, special unloading valves, stainless steel braided discharge hoses, anti-vibration feet, and tank, regulator and outlet pressure gauges.
For maximum jobsite portability, the 8- and 15-gallon models feature a single pneumatic tire, while the 17- and 30-gallon models come equipped with dual pneumatic tires. All models have a convenient lifting handle.
Options include start/stop control, dual control, a dual voltage switch, an on/off switch, oil sight glass, air line filter and a lubricator. A two-wheel option is available for 8- and 15-gallon models, and other pressure configurations can be customized upon request.
With roots dating back to the 1870s, Jenny Products, Inc. has been an OEM manufacturer for several major manufacturers of air compressors. Today, Jenny manufactures and markets its own line of hand-carry, wheeled-portable and industrial-stationary air compressors. For more information on its line of equipment, contact Jenny Products, Inc., 850 North Pleasant Avenue, Somerset, PA 15501-1069, call 814-445-3400, fax 814-445-2280 or visit the Web site.