Compressors: Jenny Products Enlarges Crankcase on "K" Compressor Pumps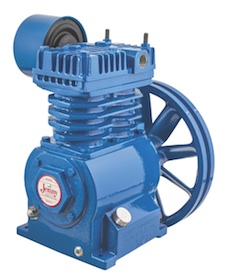 Jenny Products, Inc. has updated its most widely used air compressor pump, the "K" pump. Found on a variety of Jenny's portable and stationary air compressors, the "K" pump now offers a taller crankcase to increase the amount of oil it can hold, helping to extend oil life and promoting long compressor life.
Made of cast iron, the "K" pump is a heavy-duty single-stage compressor pump. It is splash lubricated with Jenny "Ultimate Blue" synthetic pump oil, which provides maximum protection of the unit's cylinder, piston, crankshaft, bearings and rings. The pump also includes a large flywheel for extra cooling and easy startup of the compressor.
"The 'K' pump has been used on compressors for many years," said Daniel Leiss, president of Jenny Products. "It is well known as one of the most durable and reliable pumps available, and this update will help maintain that reputation."
With roots dating back to the 1870s, Jenny Products, Inc. has been an OEM manufacturer for several major manufacturers of air compressors. Today, Jenny manufactures and markets its own line of hand-carry, wheeled-portable and industrial-stationary air compressors. For more information, call 814-445-3400 or visit www.jennyproductsinc.com.