Measuring: Johnson Level 12 Inch Johnny Square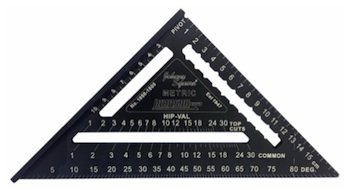 Based on the popularity of Johnson Level & Tool's patented 7" Johnny Square rafter angle square, contractors can now get the same great features in a "Big J" 12" version with highly accurate EZ Read™ laser-etched graduations, that won't rub off.
The killer application of the Johnny Square rafter angle square is measurement versatility, which is critical to increasing job speed when measuring and marking boards. For big jobs, only Johnson's big 12" Johnny Square gives the professional precise 1/8" graduations from one inch to nine inches, while the 7" version is the workhorse for framers making rip cuts at any width up to a 2x6 board, which is something all other competitive squares cannot do.
The newest additions to the Johnny Square line feature a solid aluminum extrusion with thick CNC machined edges, which are useful as a saw guide, and permanent, highly visible EZ Read white precision laser-etched graduations, over a beautiful black anodized finish, maximizing the tool's form and function.
"Our product development, which adds real product features the Professional can use, is why Johnson is the category leader," said Bill Johnson, Johnson Level's owner and CEO. "It is the lifeblood of our company," he added.
Get more information about the Johnny Square on www.johnsonlevel.com by searching models:
1904-0700 (7" square),
1904-1200 (12" square)
1956-1800 (18cm square).