Kärcher Professional Jarvis Series Pressure Washer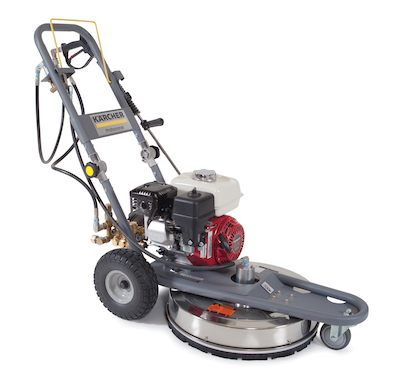 Kärcher, the world's leading provider of cleaning technology, officially introduces the Professional Jarvis Series, a complete solution for quick, streak-free cleaning of businesses' entrances, parking lots, tennis courts, pool decks and sidewalks.
The Jarvis series surface cleaner pressure washer is specifically configured for surface cleaning, and is perfect for all operators - simple on / off operation, flat free tires and a folding handle for easy transport and storage, an impressive one-step solution.
"This innovative product truly is an all-in-one, highly effective, professional-grade cleaning solution for all pressure washer needs," says Laura Niessner-Pyatt, Director Product Management, Kärcher North America. "Its ease of use, along with the incredible quality of cleanliness is a win-win for all users."
This easy-to-use cold-water surface cleaner pressure washer is an all-in-one unit with the pump and engine attached to the surface cleaner, and it is designed to attack the superficial dirt sweeping alone does not get. Users attest to two notable qualities of the Jarvis: its power and durability.
The Jarvis has corrosion-resistant stainless-steel surface cleaner housing and a professional grade swivel design for extended, effortless use.
It also showcases a reliable Honda GX engine, along with three-year warranty. Add to that a professional-grade, direct-drive pump backed by a 7-year warranty, and flat-free tires for effortless and reliable use and the end result is powerful and durable cleaning solution for all.
The one-step Jarvis shines with desirable features, including a conveniently located wand holder, a folding handle for easy storage and transport, simple on / off operation, thick and stiff bristle brush skirt to help keep debris out of the cleaning path, preventing nuisance over-spray and helping reduce the noise level.
Of equal value is the EASY!Force gun with cruise control like technology, which uses its own recoil force to hold the trigger down - so, no more sore hands after hours of use.
For more information or to schedule a demo of this one-step cleaning solution, please visit www.karcher.com/us.