Larson Electronics 300W Explosion Proof LED Light Tower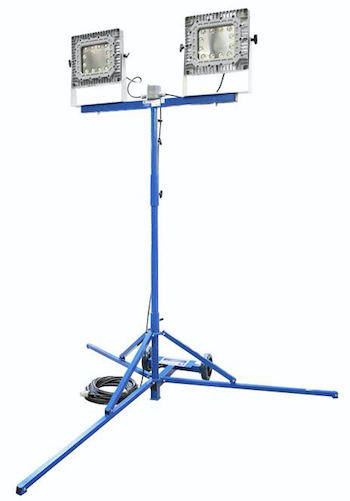 Industrial lighting leader, Larson Electronics LLC, has just announced a new 300-watt explosion proof LED light tower with a quadpod mount, capable of illuminating an area up to 14,500 square feet.
This adjustable Cree LED light tower is equipped with an explosion proof 2-pin 3-wire 480V cord cap and is designed for portability and durable operation in harsh, demanding conditions such as emergency services, mining, construction, marine, and industrial operations.
The EPL-QP-2X150RT-480V-100 is a Class I, Divisions 1 and 2, Class II, Divisions 1 and 3, Class III, Divisions 1 and 2 explosion proof quadpod mounted LED lighting system, with an output of 35,000 lumens of light projected over 14,500 square feet of work area.
This portable LED light tower features two removable heads, each containing twelve, 12.5-watt LEDs. Paired with high purity optics, these light heads produce 17,500 lumens in a flood beam pattern. This LED light tower is perfect for replacing metal halide floodlights that are too fragile and run hot.
With impressive illumination capabilities comes equally impressive functionality. This portable LED light is mounted on a four-legged, non-sparking aluminum quadpod. Not only is the tower adjustable from seven feet to twelve feet, but it can be completely taken apart for storage and transportation. The quadpod includes solid wheels for easy movement from one area of the workspace to another.
Additionally, the EPL-QP-2X150RT-480V-100 is equipped with 100 feet of 16/3 chemical and abrasion resistant SOOW cord, fitted with an explosion proof 2-pin 3-wire 480V pin/sleeve cord cap rated for 30 amps. The Class I, Division 1 and 2, Groups C, D explosion proof plug features non-sparking aluminum construction and recessed brass contacts to prevent accidental contact.
"This explosion proof light tower offers powerful illumination and portability like you've never seen," said Rob Bresnahan, CEO of Larson Electronics LLC. "For a rather lightweight system, 14,500 square feet of LED light at just 30 watts is extremely efficient. And its ability to collapse, be taken apart completely, and be wheeled around, makes it a great addition to any demanding workspace where explosion proof lighting sources are required."