Mar-Bal BMC Molded Standoff Insulators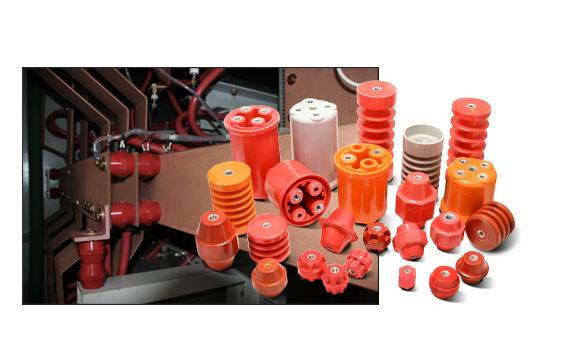 Mar-Bal, Inc. (Mar-Bal: Chagrin Falls, OH), previously named for two consecutive years by Inc. magazine as one of America's fastest growing privately held companies, is the largest manufacturer of BMC molded Standoff Insulators in North America. The ISO 9001:2015 Registered Company manufactures the industry's two leading brands−Glastic® and Mar-Bal.
The UL® Listed Standoff Insulators are molded from a flame retardant and crack resistant glass reinforced thermoset polyester molding compound.
Notably, they combine high mechanical strength with high arc resistance and dielectric properties at elevated temperatures and humidity. These shatter resistant insulators meet the most exacting standards for a variety of applications. For nearly a century Mar-Bal's portfolio, which includes the "Glastic" line, has brought the combined standoff insulator experience and innovation to the marketplace−from their UL certificates, to product and brand leadership, as well as reliability and dependability.
Mar-Bal's original focus was the electrical industry, utilizing composite materials in many different electrical equipment applications. During the 1970's, founder Jim Balogh designed and built Mar-Bal's line of UL Listed Standoff Insulators for smaller companies, and later grew to also support the needs of electrical OEMs. Many of these early customers continue to rely on Mar-Bal because of the company's constant innovation and dedication to customer service.
In 2012, Mar-Bal acquired Glastic's line of standoff insulators to officially combine two industry leaders under the same roof, and provide the company with a strong complimentary brand to their existing line. Today, Mar-Bal continues to evolve their insulator line and production capabilities with a focus on markets including BEV, EVT, and renewable energy such as Wind and Solar, amongst others.
INSULATOR PRODUCT LINE INNOVATION: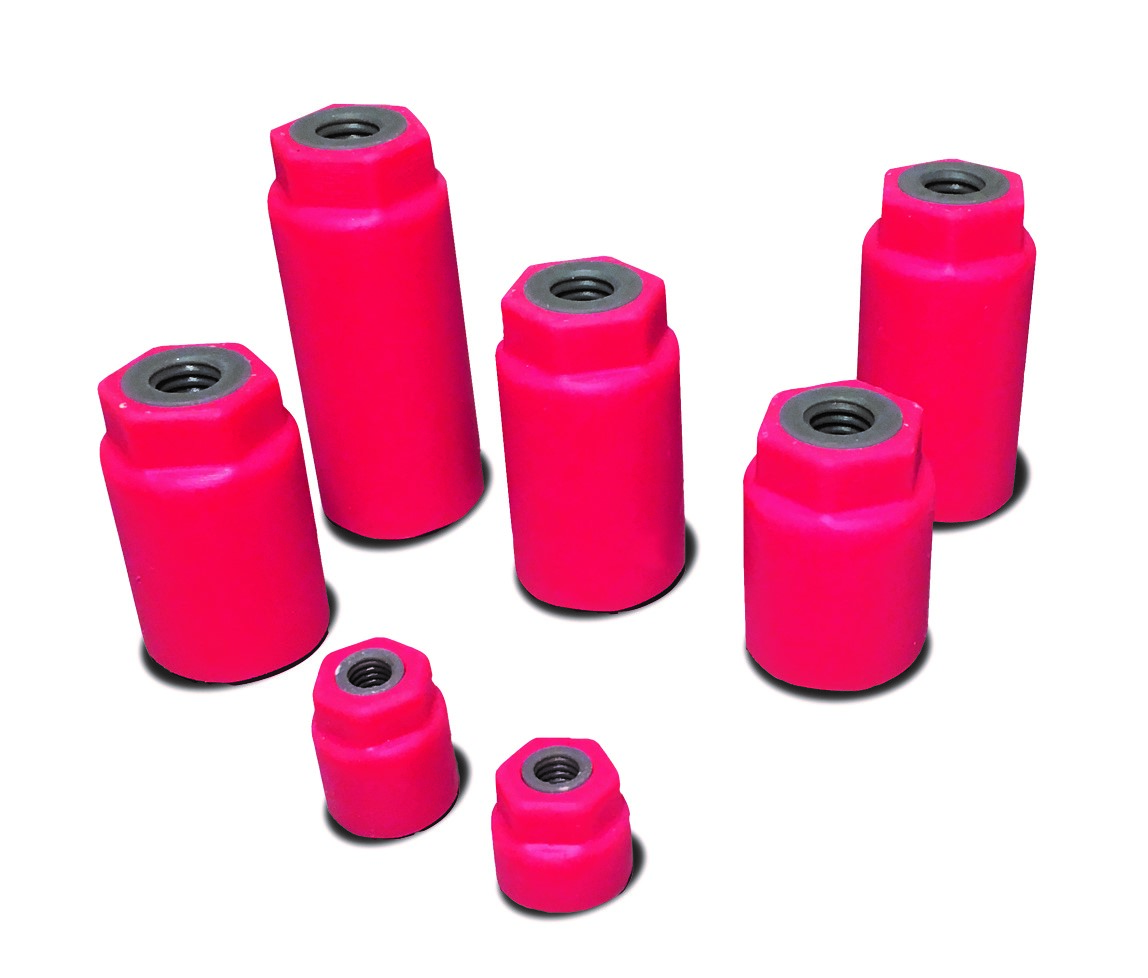 SLIM LINE / WF INSULATOR SERIES: Mar-Bal recently added Slim Line insulators for low and medium voltage applications. They feature an innovative, slimmer design which allows for ease-of-installation while maintaining current electrical properties. These insulators are ideal for space-constrained applications.
Key Slim Line / WF Innovations Include:
Recessed wrench flats for easy installation
Smaller footprint for applications where space is limited
Metric and SAE dimensions and inserts
9 heights between 15mm-60mm, .59"-2.25"
8000 SERIES NEMA A-20 STYLE INSULATORS: These insulators are engineered for medium and high voltage applications designed to replace porcelain and epoxy in many scenarios. Mar-Bal plans to have all sizes of the NEMA line available, alleviating lead time challenges commonly seen with both porcelain and ceramic insulators.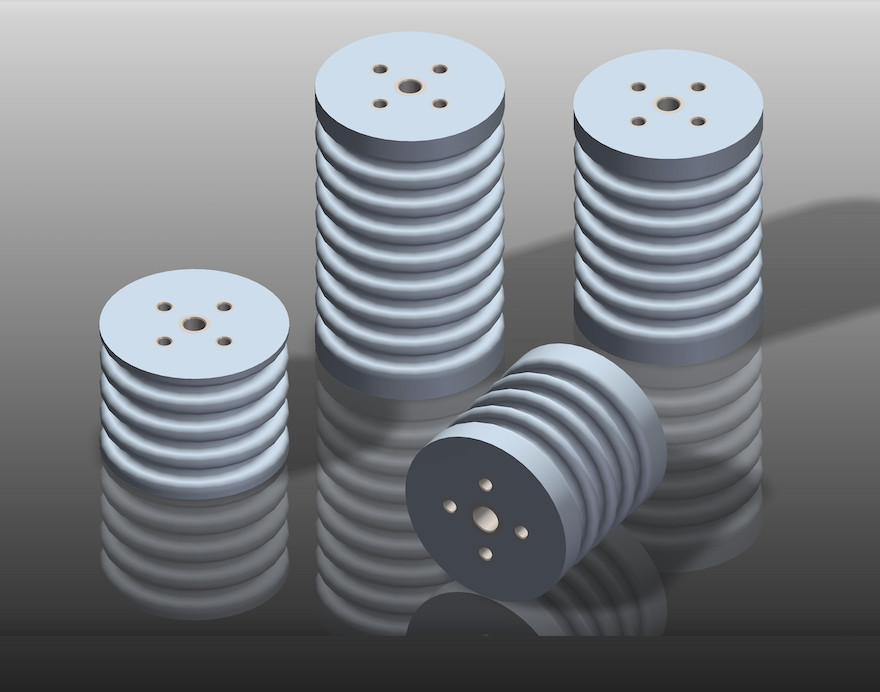 Key Innovations Include:
Cost-effective compared to legacy porcelain and ceramic parts
Alleviate shipping concerns – shatter resistant
Sizes available: 3.5", 4.5", 6", and 7.5"
Increased material options outside of porcelain and ceramic
UV MATERIAL: Boasting the same characteristics as our standard insulators, our WEATHER-TRAK line was developed specifically to withstand the rigors of outdoor applications.
Engineered to endure UV rays and complications associated with various climates such as low and elevated temperatures and precipitation, the WEATHER-TRAK insulators maintain high-performance without degradation.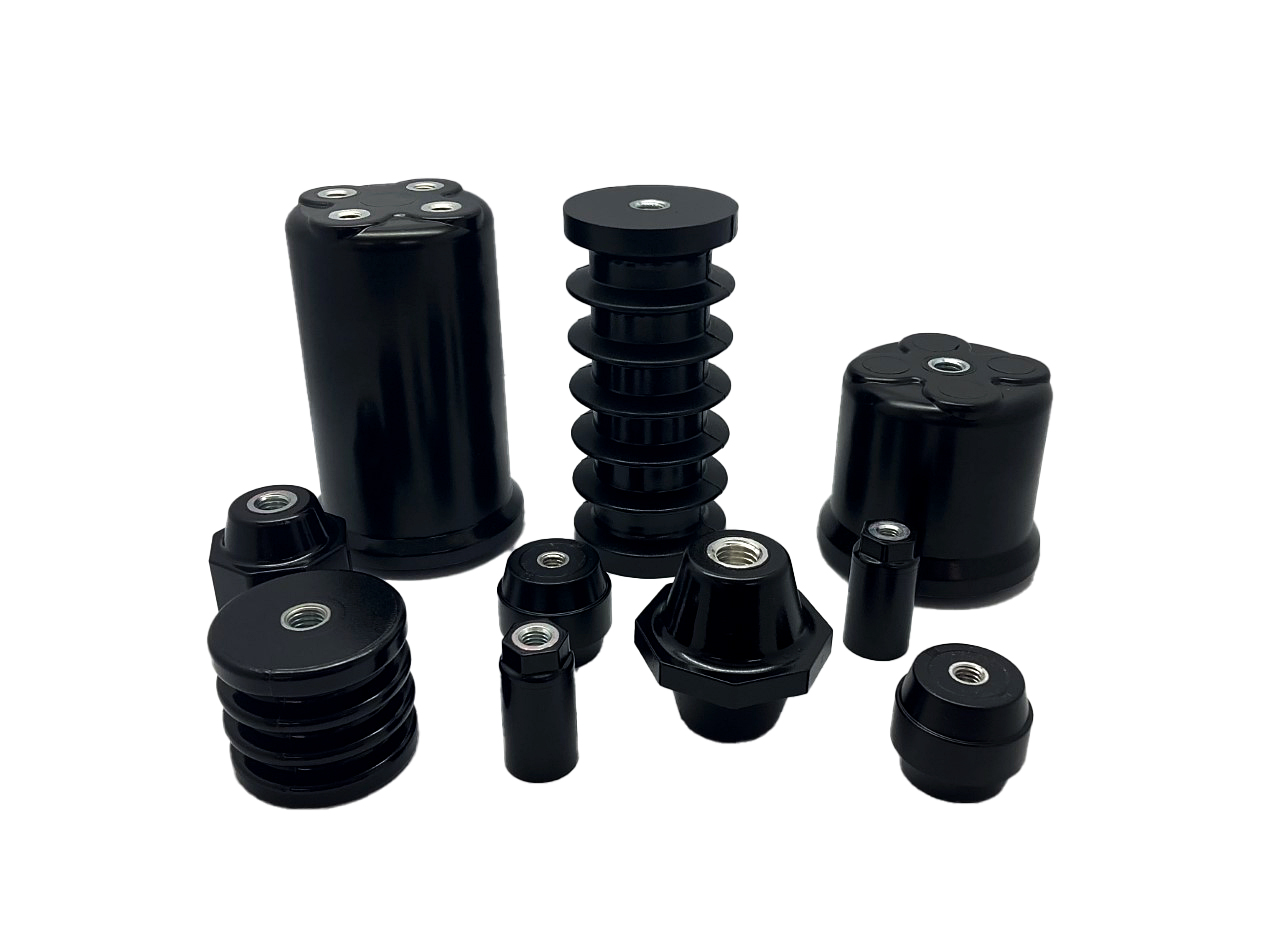 Key Testing Information:
ASTM B117 Salt Spray: No Change
ASTM G154 Accelerated Weathering (or G26): DeltaE <5
ASTM C1026 Freeze Thaw: No Deterioration
ASTM D1037 Accelerated Aging Cycle: No Change
ISO INSULATOR SERIES: Servicing a wide variety of metric applications, the Mar-Bal Engineering Team collaborated with key customers to design, develop, and introduce the ISO Metric Series of Standoff Insulators. The goal is to provide our global customers with electrical component solutions that have higher voltage ratings, a new insert design for strength, and improved availability throughout the supply chain.
The new ISO Series parts from Mar-Bal can be found in the traditional electrical and industrial applications like panel boards, switchgears, and transformers among many others.
According to Ryan Tietz, Operations Manager Proprietary Products, "Historically, Mar-Bal insulators were developed in SAE sizes, then modified to meet the needs of our customers metric applications. This new product line was developed specifically to meet the needs of the metric market with an improved design and part-numbering system to allow our customers to quickly identify the insulator that meets their needs."
The new insulator series reflects Mar-Bal's growth commitment into the vast possibilities of Clean Energy and other markets such as Rapid Transit.
According to Garret Carden, Associate Brand Manager, Insulators, "With strong relationships with our key distributors, we are able to collaborate and innovate in order to grow our presence in the ever expanding solar, wind and general EV marketplaces."
INSULATOR PARTNERSHIPS / CAPABILITIES: Key to its standoff insulator growth has been the relationships Mar-Bal has developed with its distributors over the last two decades. These relationships work together to not only reach new customers, but more importantly, to understand their ongoing needs. Understanding and listening is essential as Mar-Bal has over 1,200 insulator SKUs−offering various configurations, inserts, sizes, and assemblies.
To successfully support its global sales demand, Mar-Bal maintains relationships with raw material suppliers throughout the world in addition to manufacturing insulators at three of its four manufacturing plants. The insulator team is aligned and focused on satisfying the inventory needs of its customers. All of the material used to produce both Mar-Bal and Glastic insulators is produced in-house.
Mar-Bal's Sr. Director of Proprietary Products, Anthony Lignetta noted, "We are a leader in this space, and are proud of that. We take it seriously, and it certainly helps being vertically integrated."
Complimenting their custom molding business, last year Mar-Bal also increased production capacity at its plant in Dublin, Va.−installing two new large compression presses. Recently its warehouse at the Virginia location was also expanded to approximately twice its previous size.
In 2018 Mar-Bal acquired and renovated a 110,000 square foot manufacturing facility in Painesville, OH. This positioned the company for future growth by automating and substantially increasing the amount of BMC produced.
Scott Balogh, President and CEO of Mar-Bal, Inc. stated, "The Painesville facility is an important addition to our global manufacturing footprint. We launched the new AltraSet Materials Division with a new state-of-the-art BMC compounding (AltraSet) and added two molded product lines–supporting more growth for the insulator group in electrical equipment."
MAR-BAL INSULATOR GROWTH: Known as 'The One-Source Solutions Provider' Mar-Bal has a steady growth trajectory in providing customers with comprehensive thermoset composite solutions–including part design, specialized material formulations, decorating, assembly, and customized automation.
The company's deep history in insulator solutions and commitment to innovation continues with the four advanced series of engineered insulator products−Slim Line / WF, 8000 Series NEMA A-20 Style, WEATHER-TRAK, and ISO. This commitment is also reflected in Mar-Bal's expanded manufacturing capabilities in North America and overseas.
Ryan Tietz stated, "When we expanded our manufacturing capabilities overseas, we focused on two objectives. Our first is always quality. So, we established our own Mar-Bal, Inc. facility and processes using the same internationally recognized quality standards as our domestic facilities. The second focus was the strategic expansion of our vertically integrated manufacturing system. The development of our own facilities overseas has allowed us to leverage our capabilities globally to provide better service around the globe to meet the needs of all of our customers."
Additionally, in an effort to streamline the process where customers can locate the specific insulator needed for their applications, Mar-Bal worked to develop a searchable insulator matrix on their site. This matrix allows users to search by parameters such as brand, shape, insert material and more.
The new feature can be viewed here: https://insulators.mar-bal.com/language/en/insulator-sorter/
Conclusively, Mar-Bal's portfolio, that also contains Glastic insulators, brings their combined standoff insulator experience and innovation to the marketplace. This comprehensive expertise continues in the family-owned tradition of stability and commitment to excellence as 'The One-Source Solutions Provider' of thermoset composites–DESIGN | FORMULATE | COMPOUND | MOLD | FINISH!
For more information on Mar-Bal's line of products please visit: www.mar-bal.com or contact us at: (440) 543-7526.
Corporate Profile: For over five decades Mar-Bal, Inc. has manufactured and engineered quality, customized parts and materials while delivering unmatched client cost-effectiveness through superior customer service and the Total Value Commitment. Mar-Bal, Inc. operates manufacturing facilities in Ohio, Virginia and Missouri. Detectable Warning Systems is part of the Mar-Bal, Inc. proprietary family of products.
Headquartered in Chagrin Falls, OH, Mar-Bal, Inc. has been an innovative leader in the custom composite, molding and material manufacturing industry since its founding in 1970.